Tracking TV & Movie Rankings & Exposure in Google with the MobileMoxie SERPerator
April 24, 2020
Entertainment is a big deal, but it is definitely changing. Cable and newspaper subscriptions are down, while on-demand and online subscriptions are up. People are now getting their content online much more often, and they feel more empowered to pick and choose, to consume their entertainment whenever they want.  As more and more entertainment moves online, the Google rankings of movies and TV programs can really help drive awareness and viewership, but these must be monitored, optimized, and managed to drive the best possible awareness and engagement for your entertainment content. This article will focus first on the monitoring aspect of this critical part of marketing your entertainment content.
The growth of Google's Knowledge Graph results has impacted search results and SEO traffic in a big way, and this is especially true for media and entertainment. While some digital marketers will ignore the Knowledge Graph as a means of marketing and digital brand awareness, this just can't be done in the entertainment industry, because the Knowledge Graph and it's content dominates most search results; instead, we must work to track and optimize what is in the Knowledge Graph.
In the image below, you can see an example search result for the Trolls Movie – Trolls World Tour. As you can see, Google ranks its own information from the Knowledge Graph at the top, pulling in images and videos, and linking to YouTube with text that says 'Watch Now'.  This will make it more likely that people will watch the movie premiere there, especially with the promotion of the At Home On Demand Now promo below, encouraging people to enjoy the digital release of the movie and to share the information with a friend. On the far right, you can see that Google even ranks a Song Pack for items in the movie soundtrack, and below that, Google lets people tag the movie with the keywords that they think are relevant for the movie. All of this great presentation of information makes it easy and more likely for a searcher to watch or otherwise interact with the movie content in a variety of ways.
TV results are a bit different. In the image below you can see a typical result for a TV show that is available on many streaming services, as well as still playing live on TV. You can see that the many streaming services are listed with links and costs, and below that, the live TV schedule and next showtimes are presented. There are normal blue links, and some of them include site-link carousels to specific episodes (using normal Season and Episode markup protocols). Lower in the SERP, we get into social shares related to the show, including many threads in Reddit, and multiple clips in a YouTube carousel.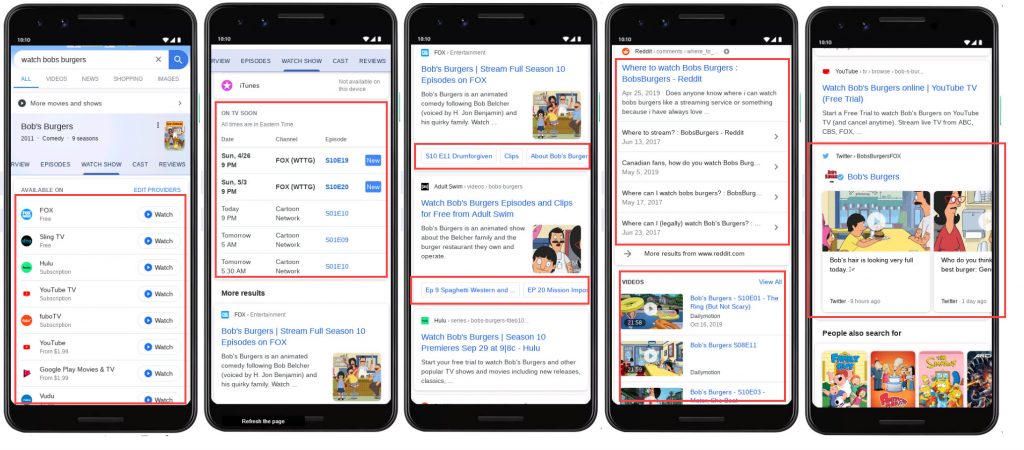 The difficulty is that this can be incredibly hard for a company to track, even though it is a critical aspect of marketing. MobileMoxie has created a Google SERP testing tool called the 'SERPerator' that will help you monitor and track search results for Movies and TV shows, over time, to know when things change. This will allow you to fine-tune your marketing attribution, but it is also a good way to monitor for potential IP infringement if non-authorized parties are using or abusing the intellectual property for a brand. This tutorial will walk you through how you can set up our tools to automatically capture full-length mobile screenshots of your TV or movie related keywords, and how they rank in Google. So let's get started!
1. Start by logging into your MobileMoxie account, and click on the top tab on the left that says SERPerator, and then click below to see the Live Testing view. (If you don't have a MobileMoxie account yet, you can register for a 7-day free trial here.) 

2. Next, add the address that you want to test from. This can be a full address, down to a specific street address, or it can just be a city or postcode/zip code. If you leave the postcode and street address blank, we will just measure from the geographic center of the city.  TV and Movie results don't tend to change much from one city to another, or even from one state to another – except that the TV listings will update show times based on time zones. They will change more from country to country, and this can be especially important to monitor if you or someone on your team is in charge of helping enforce international 'Fair Use' or other intellectual property protection and restrictions.  Don't forget, the SERPerator works for testing in most countries in the world, so if you are doing business in different countries, it might be a good idea to set up multiple tests for each country or major location.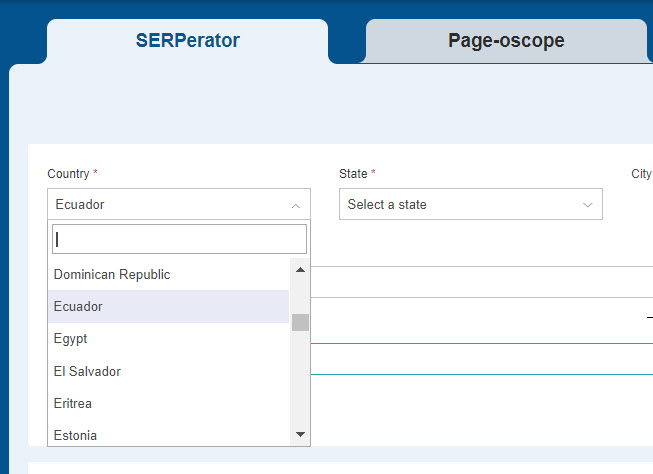 Often, contracts allow full episodes of one show, for example, to be shown on the web in one country, but only clips of the same show to be on a website in another country. This can be tricky to monitor and enforce, but monitoring Google search results MobileMoxie tolls can definitely help. If you see full episode lists like the one shown below for Madmen, in countries where they should not be showing, then you might have found a problem that you need to deal with.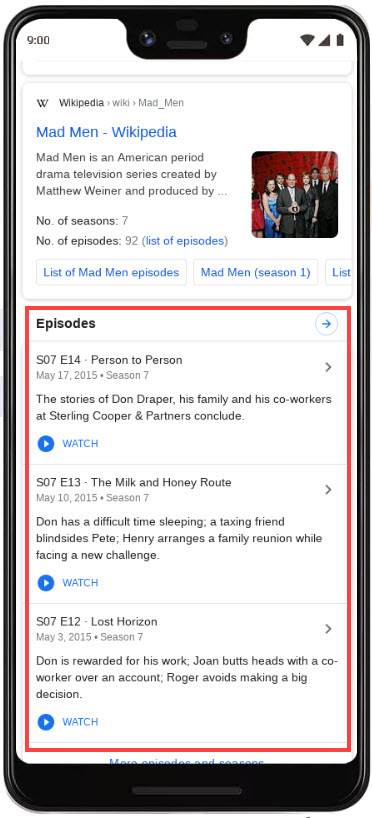 3. Add in the query that you want to test for Interesting Finds. Remember,  search results, including Interesting Finds can change based on the language setting of the searcher, so just select the language that corresponds to the most-likely phone language of your users, and you are done (The only search engine available in the tools right now is Google, so leave that as it is).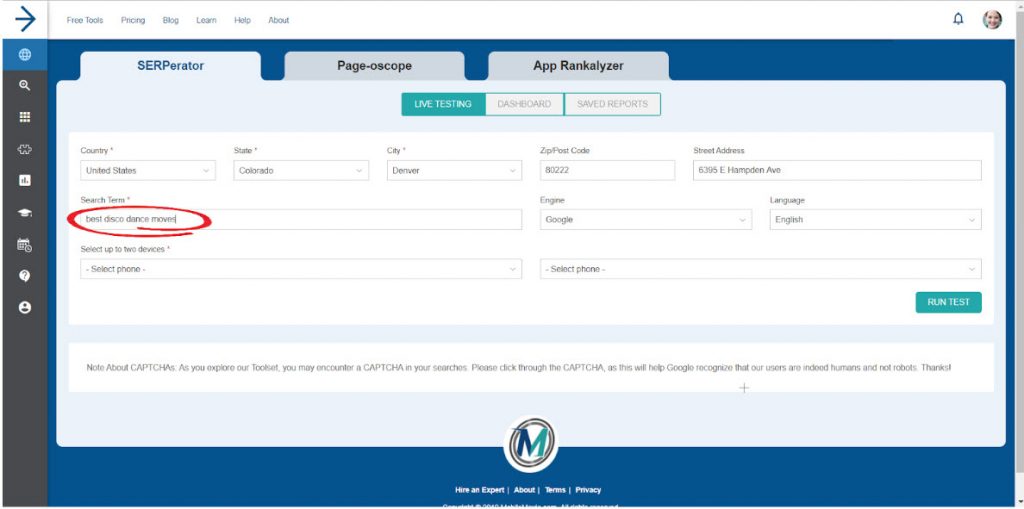 4. Now just choose the phone or phones that you want to test on, and hit 'Run Test'.  We recommend testing with two phones – one iOS device and one Android. If possible, it is also a good idea to choose one large screen phone and one small; this will give you the strongest sense if there are changes in the way results are displayed between the different OS, and the different size phones.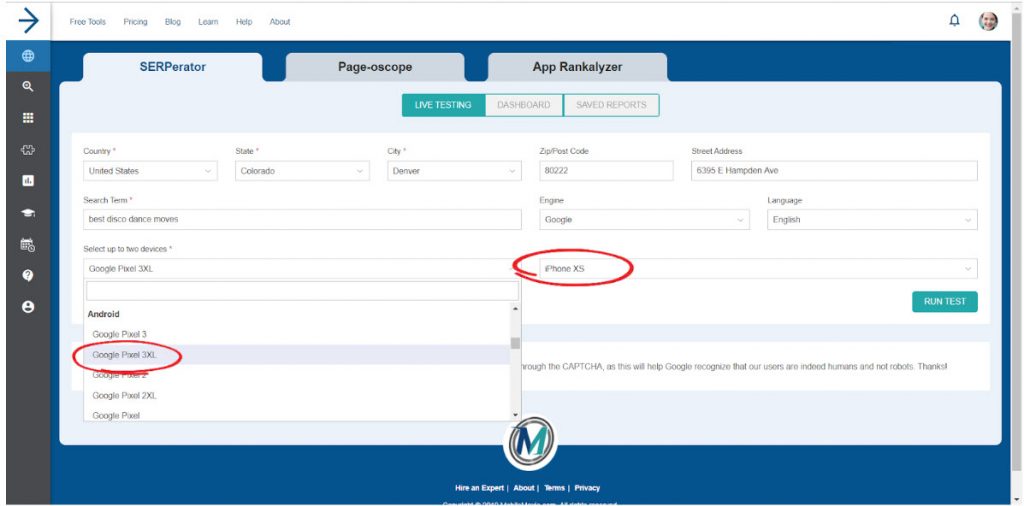 The phone OS usually won't make a huge difference in these kinds of searches, except for maybe differences in the apps that are included to let you stream the content, but the size of the phone could – especially for videos. In some cases, Google will alternate between full-size videos and smaller video thumbnails based on the size of the handset that is searching. In other cases, like in the example below, you can see that there is a video pack at the top of both phones, but People Also Ask and Interesting Finds have outranked the Knowledge Graph when compared to the bigger phone on the right. This is by no means a rule that happens every time, but things like this can definitely happen.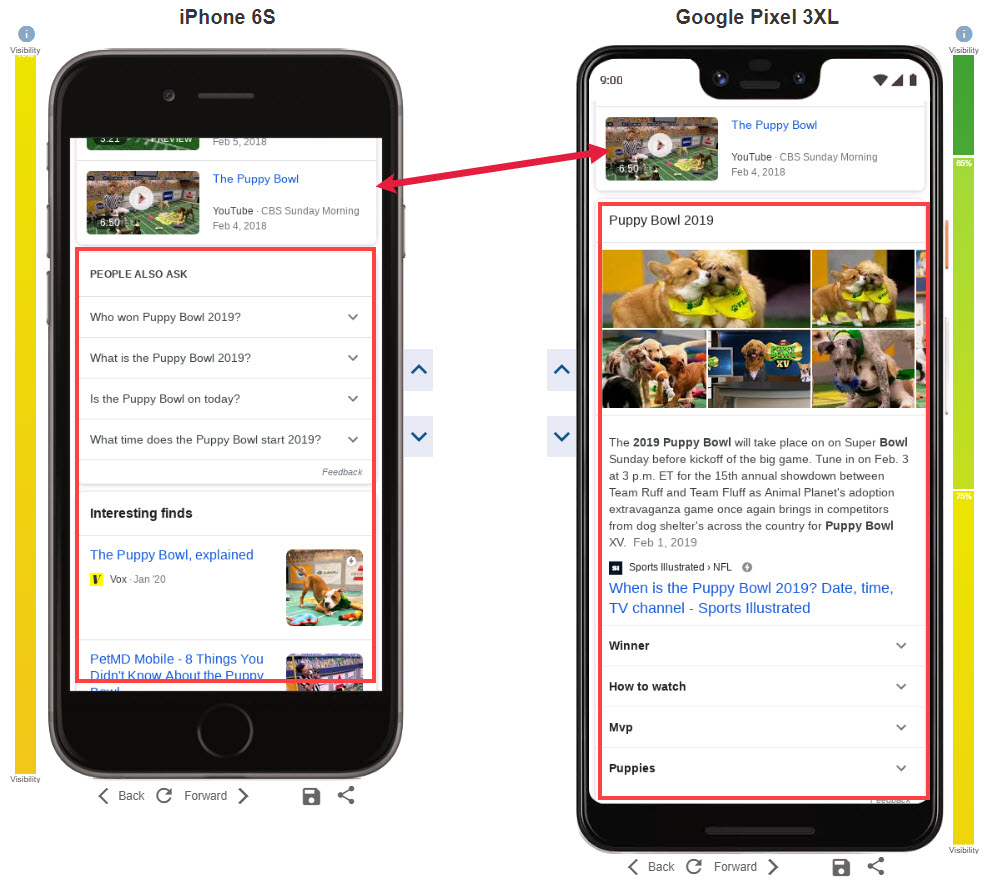 In other cases, the difference between large and small phones is just about how much of the video title is presented in the search result. As shown below, smaller phones are more likely to truncate long video titles.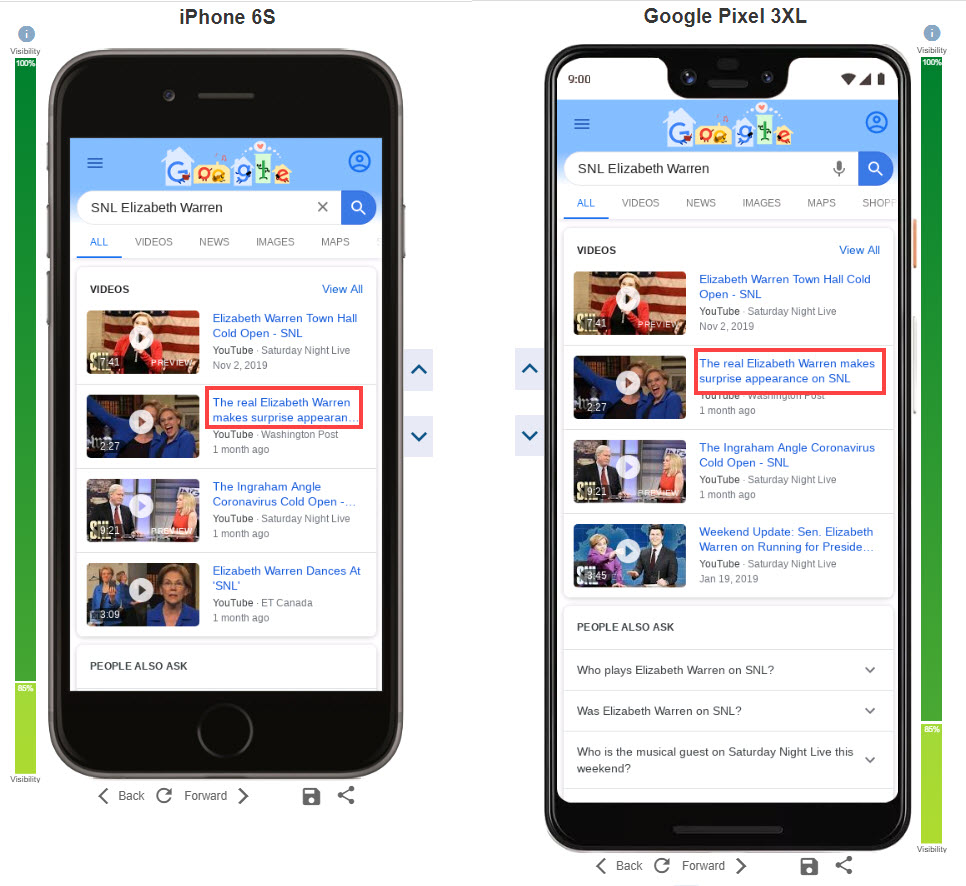 5. Check out the results! You can see in the images below that a search for 'Morning Joe' brings up a Knowledge Graph that includes a link to YouTube that is only functional if you have a subscription. Below that, you see the overall reviews and rating scores, which also might be an important point for optimization. On the right screen, you see that there are Top Stories news results, in this case, from The Hill, and below that, a People Also Searched For carousel and an Episode Pack from Google that links to specific episodes, with the normal Season and Episode notation.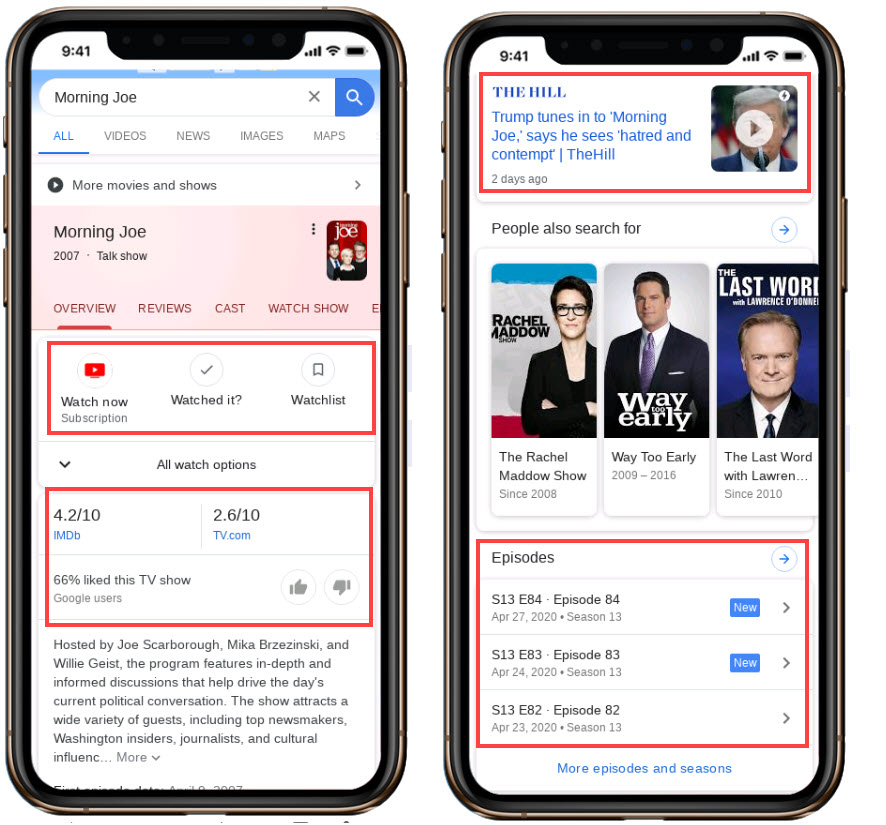 In some cases, Google will alternate between full-size videos and smaller video thumbnails based on the size of the handset that is searching, or more commonly, they will omit videos and images that might drive click-through from search results entirely, as in the Sesame Street example below: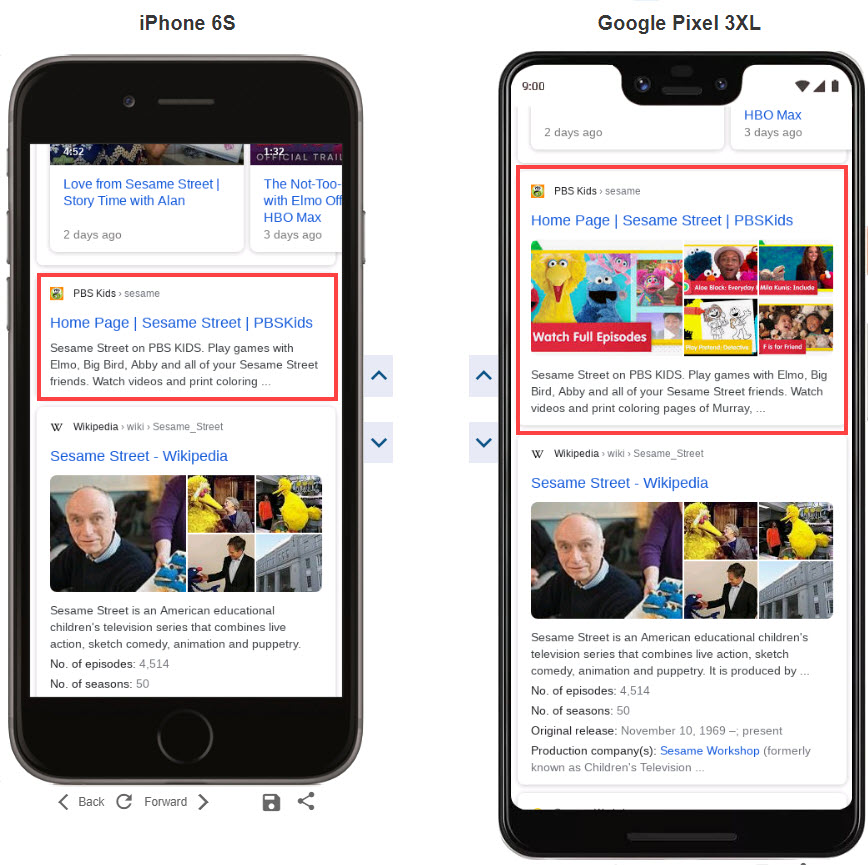 6. When you are done, you can click the 'save' icon below each of the phones – Each test, aka each phone, must be saved separately, so it is fine if you only want to save one of the results, to test on a regular basis, or you can save both; this is especially important if you see a significant difference between the results – for instance, a TV app like HULU is ranking on Android or not iOS or vice versa.
When you click the 'save' icon, a modal will pop up with options. You have the option to re-run this test daily, weekly or monthly, and you can specify things like the day and time that you want it to run.  You also have the option to run the test, not just in the address or location that you specified, but in a radius around the area, to see if the result changes. Most TV and Movie marketers can choose non-local, which will only test in one location, but if you are marketing a local news or broadcast network, you can choose 'local' the tool will test with 12 different addresses in a 20-mile radius of your main address. When you are done here, click 'Next.'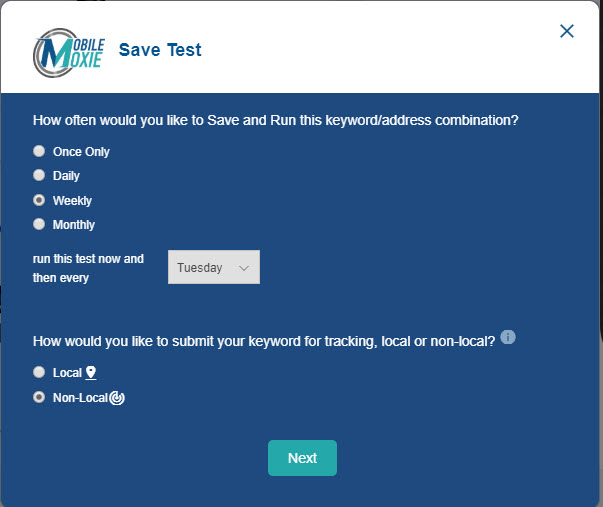 7. Next, you can replicate this test in other areas if you want. If you already have other addresses saved to your account, you will be given the option to run the same test in multiple locations outside of the 20-mile radius. This is great if you want to compare how this test looks in different cities, states, or countries that you serve. It is also great if you just want to to the same test at multiple store locations. (If you want to run this test in multiple locations that are not already set up in the tool,  go to the 'Dashboard' CSV uploader, then come back to this step if you need to). Click 'Submit' and then you are done. The test will be added to your dashboard, and you can see the progression of your tests there. The tests will appear in your account once they are complete.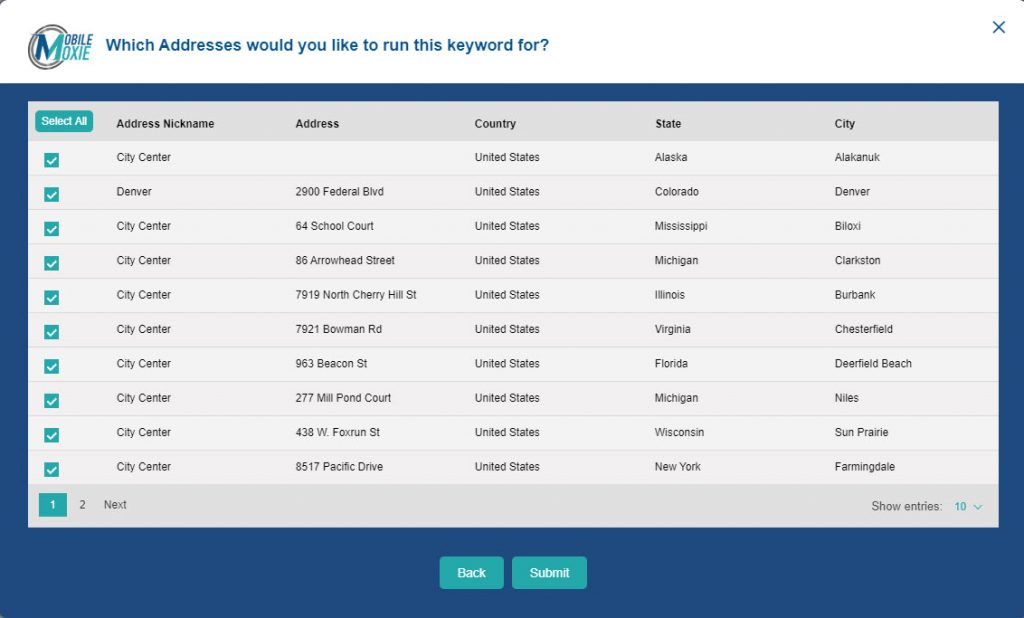 Optimizing and tracking TV and Movie rankings can be critical for a successful digital marketing effort for entertainment companies. MobileMoxie SERPorater allows you to track SERP changes and discover new opportunities, threats, and strengths as they appear in the SERP. Thus tutorial has focused on the paid version of our SERPerator tool that members have access to. If you have not signed up yet, you can use our free SERP checker tool or if you need to run more than one or two tests, you should register for a free 7-day trial, to get access to unlimited SERP testing. We hope you have found this step-by-step tutorial valuable!