How To Test Mobile Search Results for a Map Pack Ranking in the SERPerator
April 24, 2020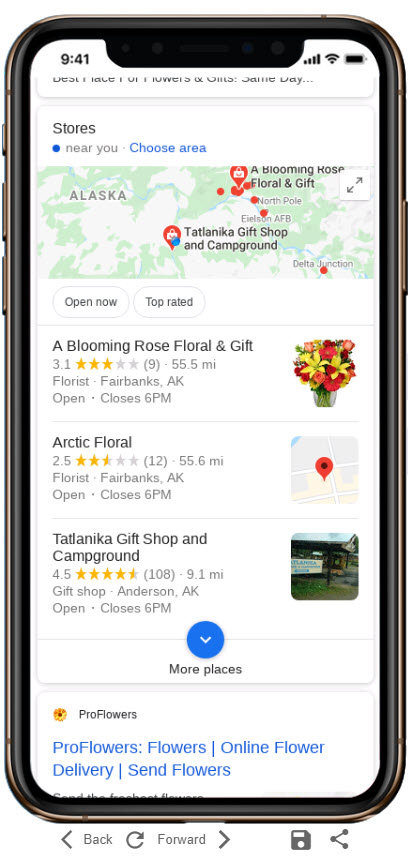 More than one-third of mobile queries are reported to have an offline local intent. These kinds of searches can return a Map Pack, a Google My Business (GMB) single or the main company website can rank at the top, but what ranks will have a direct impact on where you can expect to receive the traffic. If the website is ranking at the top, then it will likely receive a good portion of the traffic, but it is more likely that a Map Pack or a GMB result will rank at the top – depending on the query, and these can also change where a brand experiences the traffic. What is more, these results can change and fluctuate, but the only one that is easy to track in the rankings is the website. GMB and map packs are much harder and less reliable to track. This means that if the query result for a particular keyword changes from the website ranking to the GMB, or from a Map Pack to the website ranking at the top, you might have significant decreases or increases in web traffic, and or offline foot traffic and phone calls, that are hard to explain – at least until now. This article is going to show you how to track mobile, location-specific search results for Map Packs and related assets, to help with attribution in your reporting.
1. Start by logging into your MobileMoxie account, and click on the top tab on the left that says SERPerator, and then click below to see the Live Testing view. (If you don't have a MobileMoxie account yet, you can register for a 7-day free trial here). 

2. Next, add the address that you want to test from. MobileMoxie will try to guess at your current location, but you can easily change it to anywhere in the world. The location that you use can be a full address, down to a specific street address, or it can just be a city or postcode/zip code. If you leave the postcode and street address blank, we will just measure from the geographic center of the city. Map Pack results tend to be very localized, so you may see that not only will the rankings within the Map Pack change, but in some cases, especially if the search is very specific, for something with only one location, the rankings of the Map Pack itself can change. Don't forget, the SERPerator works for testing in most countries in the world, so if you are doing business in different countries, it might be a good idea to set up multiple tests for each country or major location.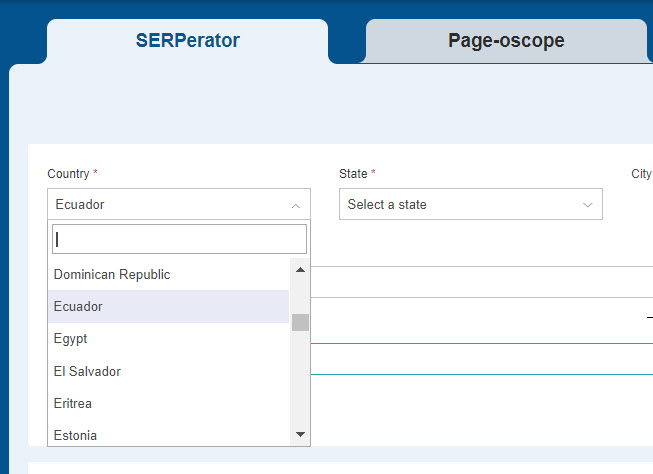 3. Add in the query that you think your video should rank for. Remember,  search results, including video results, can change based on the language setting of the searcher, so just select the language that corresponds to the most-likely phone language of your users, and you are done (The only search engine available in the tools right now is Google, so leave that as it is).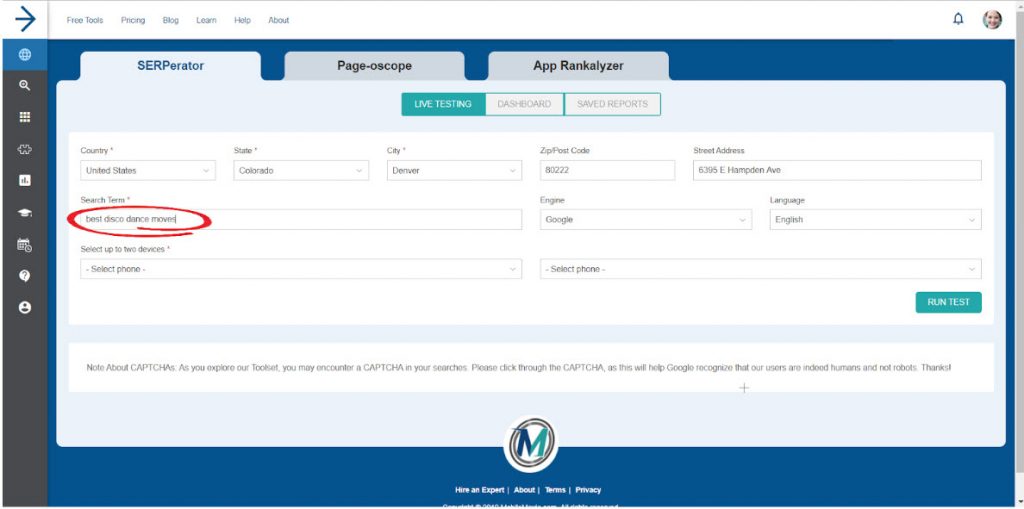 4. Now choose the phone or phones that you want to test on, and hit 'Run Test'.  We recommend testing with two phones – one iOS device and one Android. If possible, it is also a good idea to choose one large phone and one small phone; this will give you the strongest sense if there are changes in the way results are displayed between the different OS, and the different size phones. The formatting of Map Pack rankings does not tend to change drastically from one device to another, but in some cases, where there is more space, Google seems more likely to include relevant quotes or other information in the Pack results.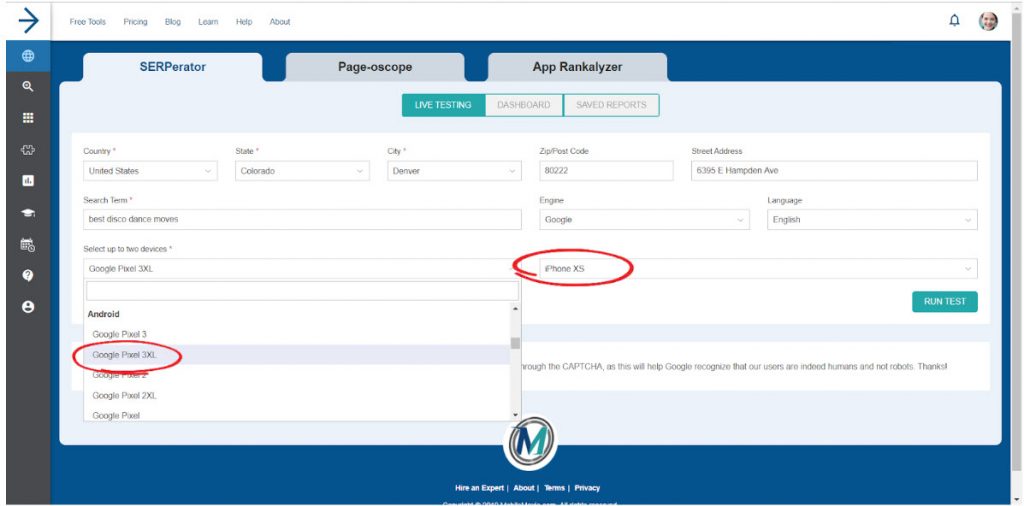 5. Next Step – Check out the results!  There is a lot that can happen in a local-oriented query! You can look for a Map Pack or a GMB result, but you should also not forget to look for other things that might not show up in your Google Search Console (GSC) that could take clicks, like PPC results, People Also Ask, Images and other things.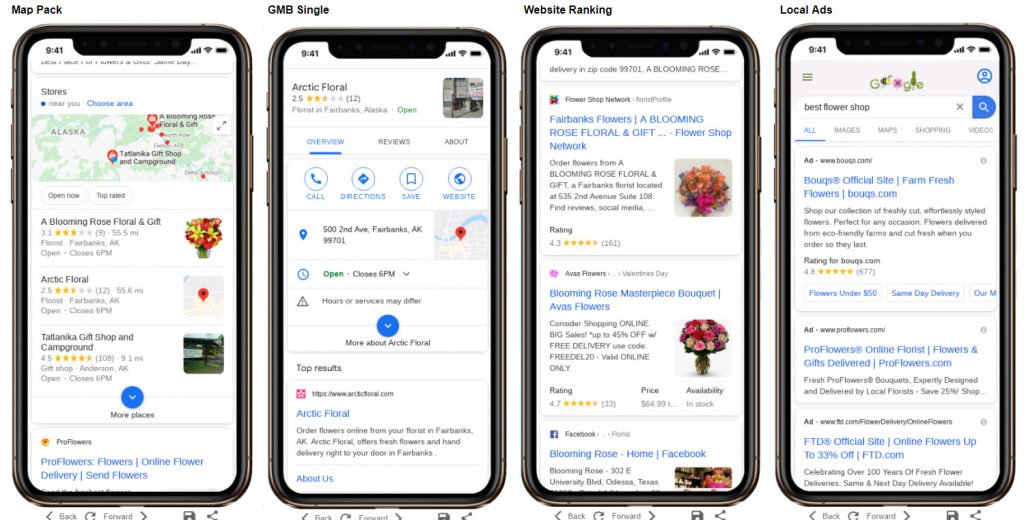 6. When you are done you can click the 'save' icon below each of the phones – Each test, aka each phone, must be saved separately, so it is fine if you only want to save one of the results, to test on a regular basis. When you click the 'save' icon, a modal will pop up with options. You have the option to re-run this test daily, weekly, or monthly, and you can specify things like the day and time that you want it to run.  You also have the option to run the test, not just in the address or location that you specified, but in a radius around the area, to see if the result changes. If you choose non-local, you will only test in the one location, but if you choose 'local' the tool will test with 12 different addresses in a 20-mile radius of your main address.
When you are done here, click 'Next'.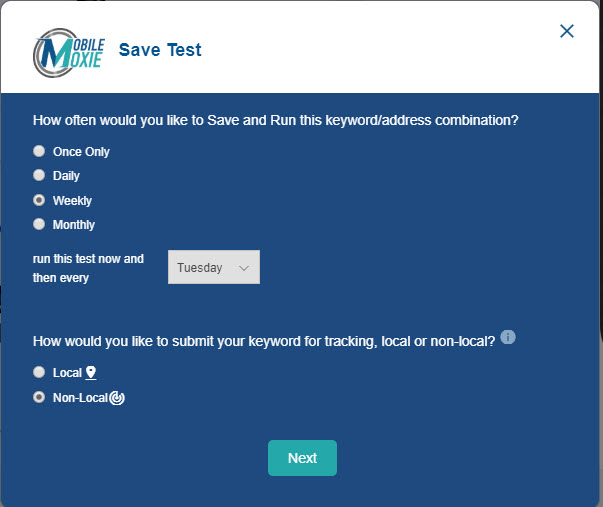 7. Next, if you want, you can add other addresses to test. If you have other addresses saved to your account, you will be given the option to run the same test in multiple locations outside of the 20-mile radius. This is great if you want to compare how this test looks in different cities, states, or countries that you serve, or if you want to to the same test at multiple store locations (If you want to run this test in multiple locations that are not already set up in the tool,  go to the 'Dashboard' CSV uploader, then come back to this step if you need to).
Click 'Submit' and then you are done. The test will be added to your dashboard, and you can see the progression of your tests there.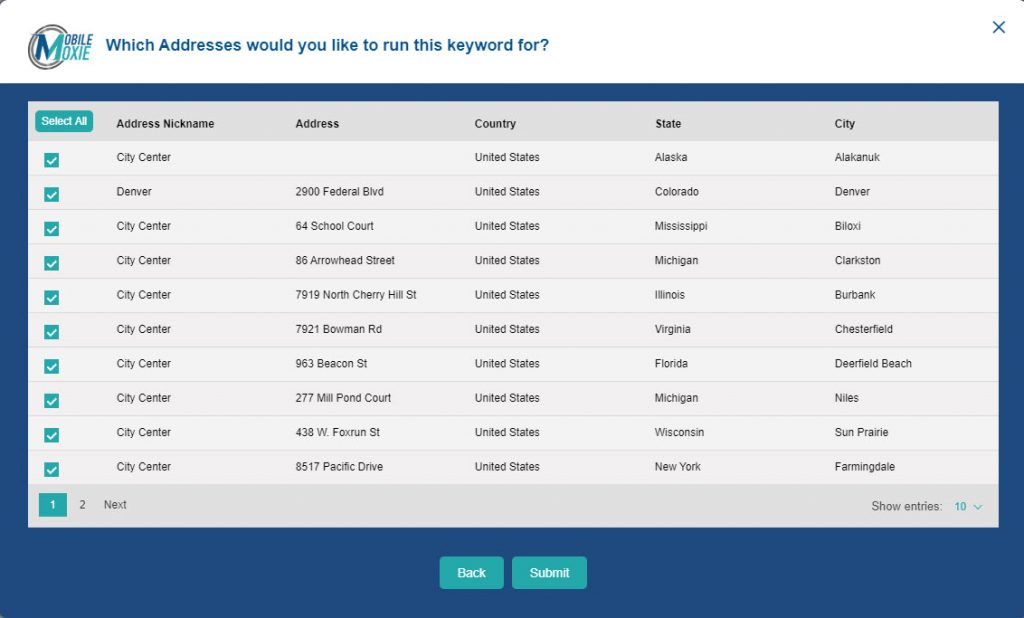 Optimizing and tracking the impact of Map Packs is a great way to learn about what your audience is seeing when they search and determine how it might impact their behavior. Map Packs and their contents can be hard to track and monitor over time. The MobileMoxie SERPorater allows you to track SERP changes and help you discover new opportunities or threats as they appear in the SERP  in the Map Packs. This tutorial has focused on the paid version of the MobileMoxie SERP checker, but we do have a free SERP checker too. It limits your tests, so if you want unlimited SERP testing, you should sign up for a 7-day free trial of the tools. We hope you have found this step-by-step tutorial valuable!