Story
MobileMoxie was found in 2008 by Cindy Krum. Cindy is credited with having invented 'mobile SEO' as a discipline, and has been a thought leader in the space since 2005 – well before the iPhone was invented! When asked about her initial interest in mobile SEO, Cindy explains that, "It became clear that Google was treating mobile websites and rankings differently. No one was talking about it, so I did some research and started talking about it. People liked what I had to say. " In 2010 Cindy authored the book, Mobile Marketing: Finding Your Customers No Matter Where they Are, which has now been translated in 4 other languages. Her deep and visionary knowledge of mobile SEO and development Best Practices allowed Cindy to work with a large number of top international companies on cutting-edge projects and campaigns. The company has been considered "Best in Breed" since its inception, and has had a prominent position throughout the conversation of the changing mobile landscape in digital marketing.
MobileMoxie initially focused mostly on mobile web optimization, UX, messaging and basic app optimization until 2014 when Emily Grossman joined the team, and expanded the offering to include advanced app optimization consulting and deep linking. Together Cindy & Emily travel the world, teaching people how to improve their businesses mobile assets and customer communication. The MobileMoxie team also includes Kathryn Hillis, who assists with both mobile and desktop SEO, and Roger Johnston, who manages development of the MobileMoxie website and tool set. Tyler Meyers serves as MobileMoxie's 'Master of Operations,' managing accounting, travel and all the other critical tasks that keep the consultancy running.
MobileMoxie maintains a hyper-specialized consultancy, where experts interface directly with clients to get the best outcomes possible. We take immense pride in our work and have had the pleasure of working with amazing companies around the world, including: MTV, Nickelodeon, eBay Classifieds, The Weather Channel, ABC News, Target, KAYAK.com, TripAdvisor, Chicago Tribune and many more.
Mission
We are here to help! MobileMoxie is here to make 'mobile' better – for users, marketers and developers. At MobileMoxie, we believe that mobile technology democratizes access to information in a way that is revolutionary – It empowers people to make more informed decisions throughout their lives, to connect with the world around them and sometimes just to blow off steam. All of these pursuits are vital to improving people's lives, and we want to help your company be a part of that.
At MobileMoxie, we are also realists, so we will tell it like it is. The goal in all of our client communication is comprehensiveness and clarity. We give your teams the best feedback so that they can make the right decisions about your mobile strategy. We also know that real connections happen in person, so we are dedicated to in-person interactions with you and your teams whenever possible. We are 'mobile' consultants in the truest sense of the word! We regularly travel to conferences and client locations to participate in meetings, trainings, or presentations. Since mobile optimization is a niche skillset that crosses many disciplines, and is constantly changing, MobileMoxie consultants are often brought in to supplement existing SEO teams. We are often deeply integrated, working across a variety of teams and product offerings, to coordinate app, web and other digital offerings.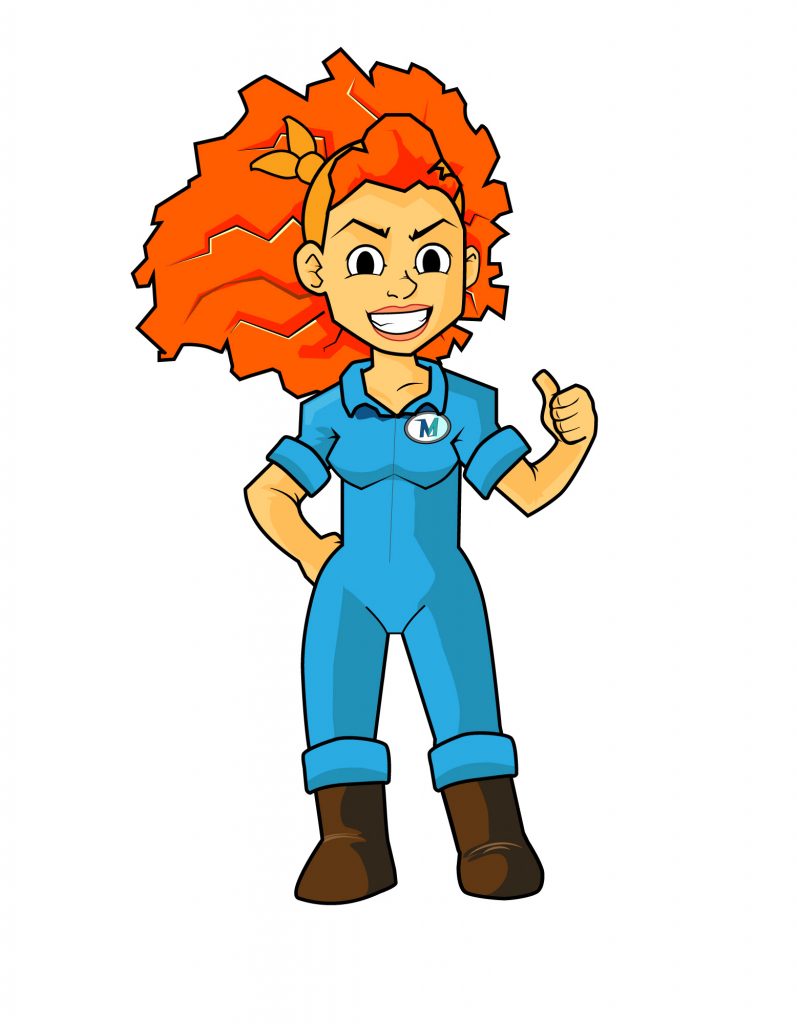 Mascot
Meet Ada Moxie! Ada is named after Ada Lovelace, the first computer programmer and writer of the first computer algorithm, who also just happened to be female. At MobileMoxie, we are passionate about women in technology, so we regularly give and support opportunities for women around the world to become more involved in technology. This includes charities like Girls Who Code, KIVA.org and local women's shelters that offer free access to technology and training. You will see Ada around the site, helping to highlight the most important information on the page, or just spicing things up. Like her namesake, Ada Moxie is a smart cookie who is a bit mischievous, but has a heart of gold.