Try the MobileMoxie SERPerator without logging in...
You can use it for free 5 times per day.
Thanks for trying the MobileMoxie SERPerator!
Note About CAPTCHAs: As you explore our Toolset, you may encounter a CAPTCHA in your searches. Please click through the CAPTCHA, as this will help Google recognize that our users are indeed humans and not robots. Thanks!
Learn how to use the MobileMoxie SERPerator to Check Google Keyword Rankings for SEO & Local SEO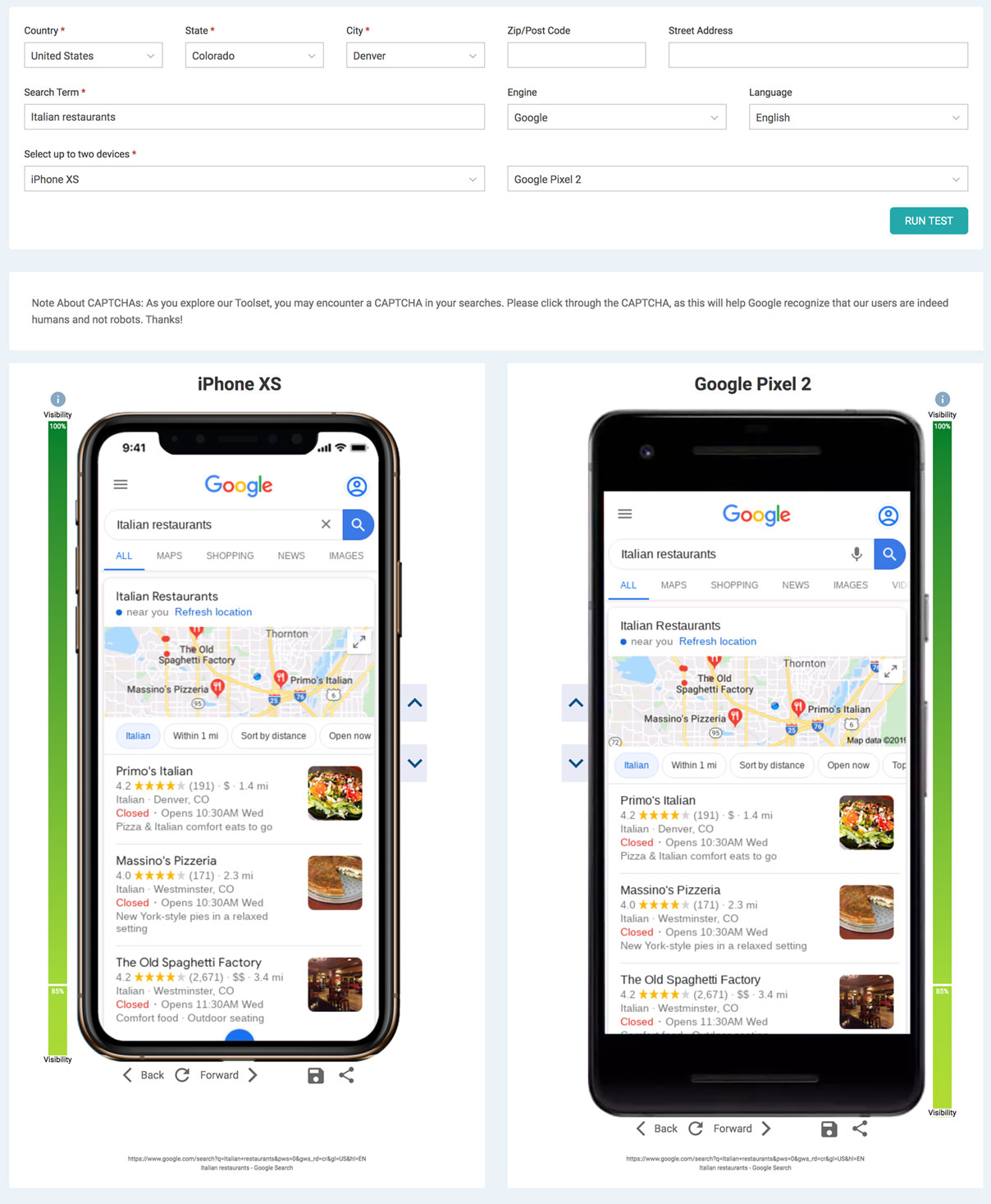 SEE SEARCH RESULTS IN SPECIFIC LOCATIONS
View by device in international, regional, city and zipcode / suburb locations as well as by search engine and language. Most SEO tools show rankings that are specific to a city, state or country, but our tools are specific, down to a particular street address, plus code or latitude and longitude coordinates.
SEE PAGE VARIATIONS IN FAR AWAY LOCATIONS
Wondering how your brand ranks in a different country, on the other side of the world? We've got you covered! MobileMoxie subscribers can test search results from anywhere in the world, and even automate testing, to get monthly or weekly screen captures of mobile search results from anywhere in the world. This is great for monitoring top keywords in all the locations that an international business serves!
VIEW SEARCH TERM RESULTS BY DEVICE - MORE THAN 35 UP TO DATE MOBILE DEVICES
Easily see different Google search query results on different devices. You can emulate and compare search results on two phones at a time, and we have more than 35 phones to choose from. This is great for seeing differences in rankings between Android and iOS devices - especially relevant for App Pack rankings. Plus, we are always updating our devices lists in both iOS and Android, so if you have it, we probably do too!
Ready to get started?
You can use our SERPerator and our Page-oscope for 7 days free.
Register now and get immediate access!