How To Test Mobile Search Results for Video in the SERPerator
April 22, 2020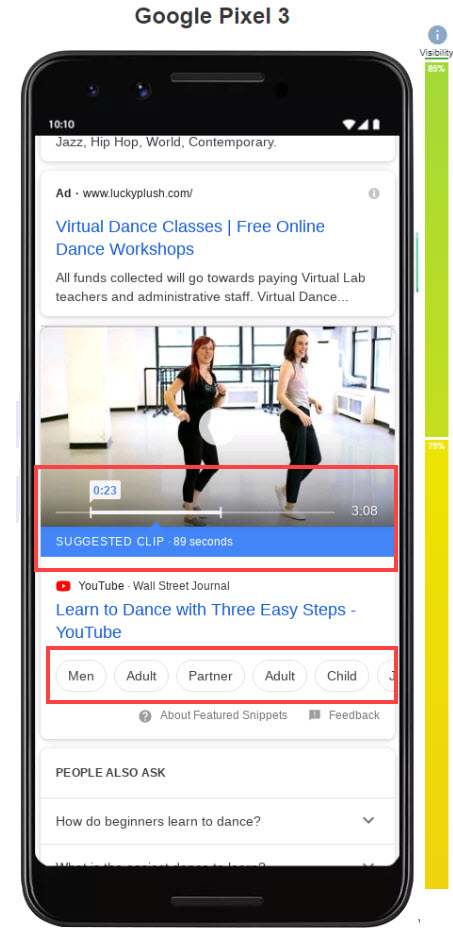 After searches for local businesses, entertainment-oriented queries are the second highest type of query on mobile, and they are growing. People search for all different kinds of entertainment on mobile devices, including apps, books, and music, showtimes, but the most common type of entertainment that people consume on their phones and tablets is video content. There is a wide variety of different types of content that can be included within the larger concept of 'video'; from short clips to business and tech-oriented tutorials Tick-toc and Twitch UGC videos, and well-known YouTuber to full episodes of professionally produced content.
From an SEO standpoint, if you have not started making videos, you really should. Not only do they make your company offering more clear and easy to explain, they can help reach different demographics, and if they are optimized properly, they often tend to float to the top of a search result with much less effort than a web page alone might. And as Brodie Clark explains, YouTube results are exploding as a part of Featured Snippets.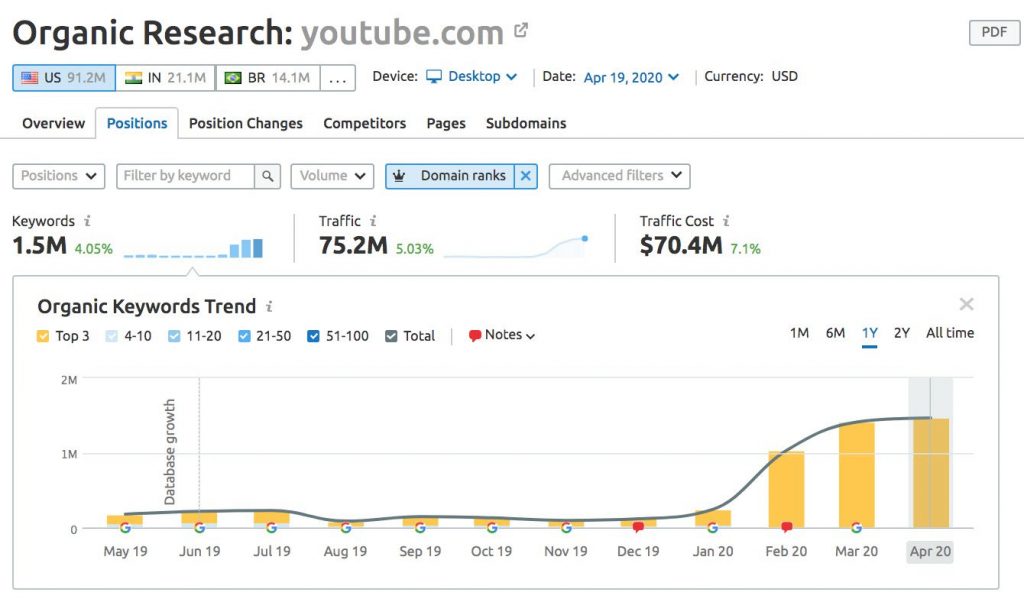 Sometimes searchers are looking for a specific type of information or a training video, like the 'learn to dance' result shown on the right, and other times, they are just trying to kill time or be entertained, finding YouTube videos, channels, or finding more traditional TV and movie content that they can watch directly on their phones or cast to a different device. Either way, it is getting much more common for companies to create and optimize video content, and it is a good strategy because people love videos.  With the overall growth of video, and the increased prevalence of video in mobile search results, and Featured Snippets, it may become important for you track changes to your video rankings at a more granular level.
For the 'Learn to Dance' video above  – you might want to know, when did the 'Suggested Clip' functionality show up? What thumbnail was used for the video? When did the topic filters get added to the result? Did it show up as a single, a  Video 4 Pack, or a list of videos? All of these things will impact how much traffic your video gets, but are hard to get out of YouTube reporting, or website analytics. To effectively track this, you need to replicate this exact same search over time, and archive images of the results, to see when it changes. This tutorial will explain how you can do that with the MobileMoxie SERPerator – our live, geo-specific, 100% accurate, mobile SERP test tool.
1. Start by logging in to your MobileMoxie account, and click on the top tab on the left that says SERPerator, and then click below to see the Live Testing view (If you don't have a MobileMoxie account yet, you can register for a 7-day free trial here).

2. Next, add the address that you want to test from. This can be a full address, down to a specific street address, or it can just be a city or postcode/zip code. If you leave the postcode and street address blank, we will just measure from the geographic center of the city. Video results tend to be less localized than other kinds of searches, so it is fine if you just want to go down to the city level here. Don't forget, the SERPerator works for testing in most countries in the world, so if you are doing business in different countries, it might be a good idea to set up multiple tests for each country or major location.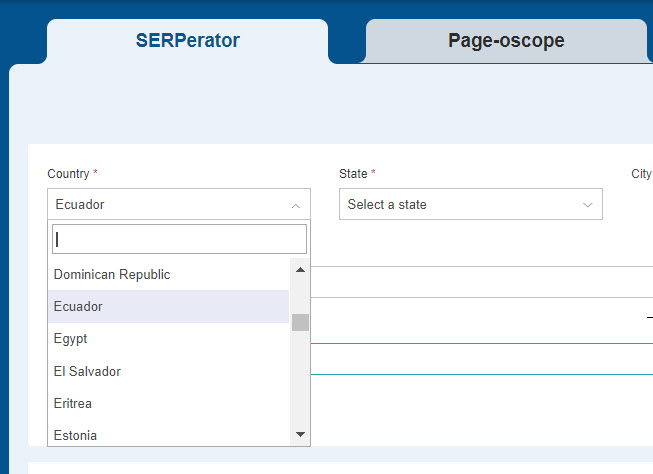 3. Add in the query that you think your video should rank for. Remember,  search results, including video results, can change based on the language setting of the searcher, so just select the language that corresponds to the most-likely phone language of your users, and you are done. (The only search engine available in the tools right now is Google, so leave that as it is.)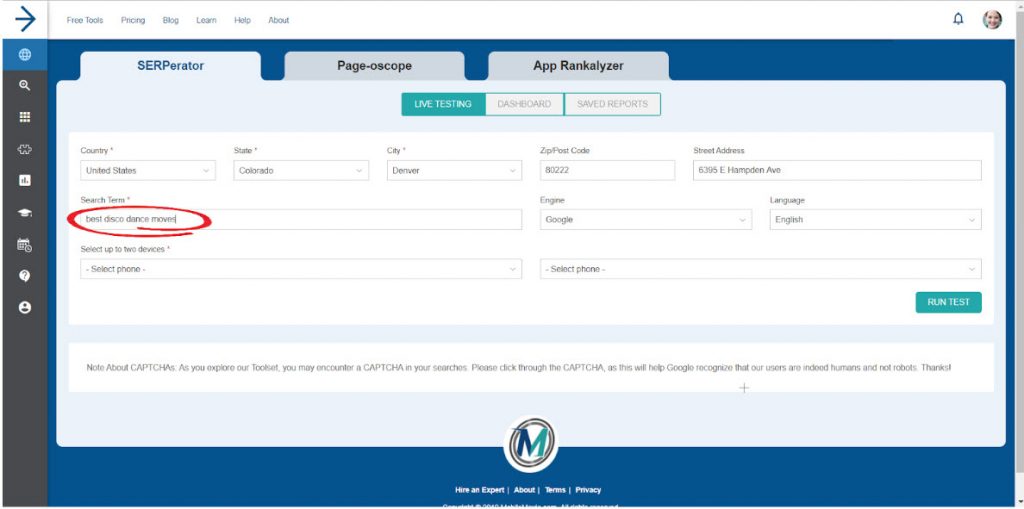 4. Now just choose the phone or phones that you want to test on, and hit 'Run Test'.  We recommend testing with two phones – one iOS device and one Android. If possible, it is also a good idea to choose one large phone and one small phone; this will give you the strongest sense if there are changes in the way results are displayed between the different OS, and the different size phones. The most common type of video ranking is a YouTube ranking, but in some cases, if you are searching for a TV Show, Celebrity, or Music Video, there may be a Knowledge Graph result too.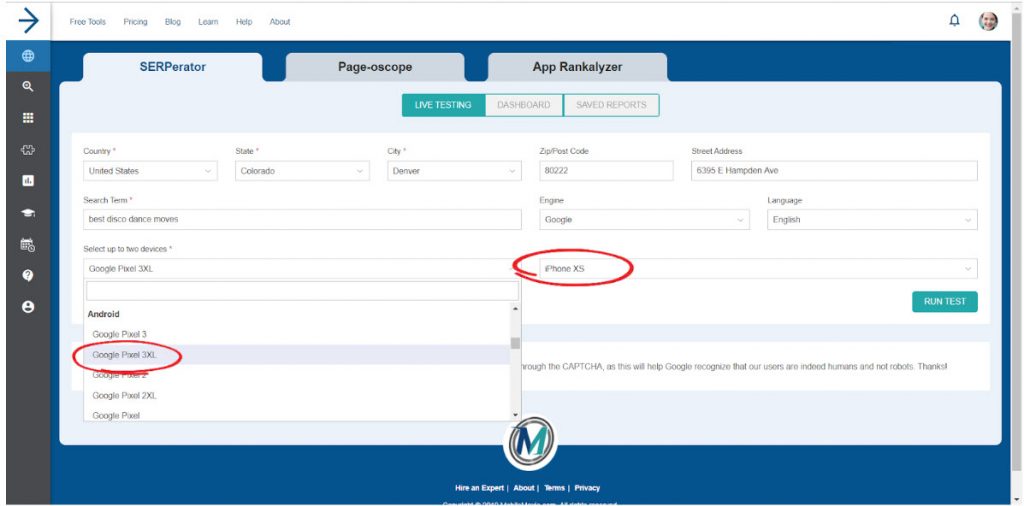 FYI: The phone OS usually won't make a huge difference in these kinds of searches, but the size of the phone could. Google seems to change the layout of video search results to fit the phone size more than other searches. In some cases, Google will alternate between full-size videos and smaller video thumbnails based on the size of the handset that is searching, or more commonly, they will omit videos and images that might drive click-through from search results entirely, as in the Sesame Street example below: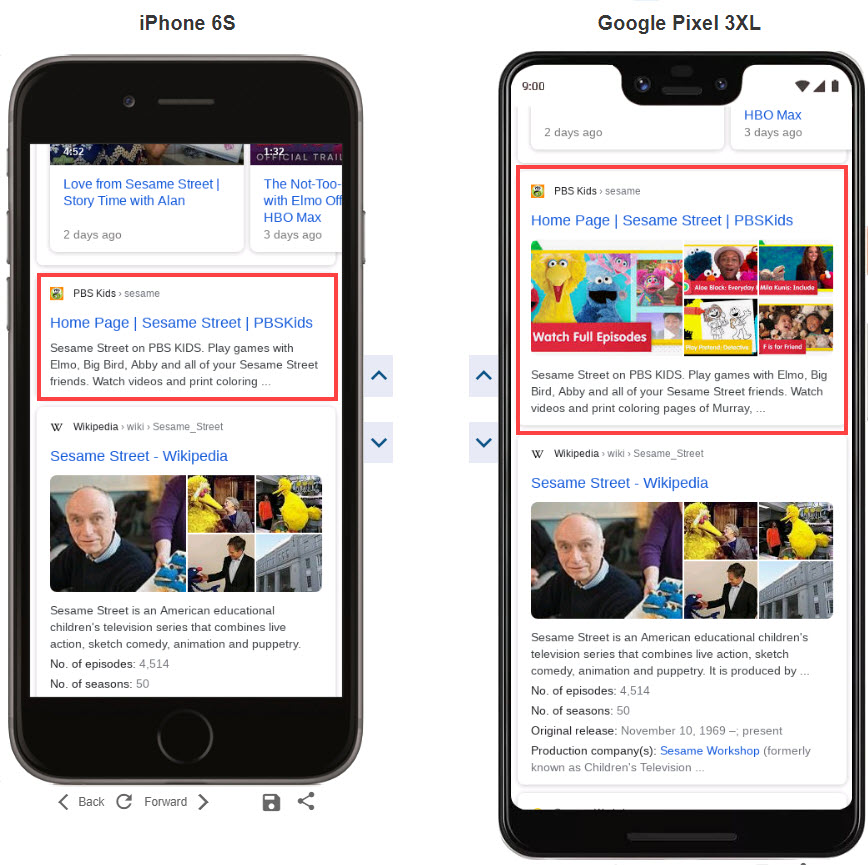 In other cases, the difference between large and small phones is just about how much of the video title is presented in the search result. As shown below, smaller phones are more likely to truncate long video titles.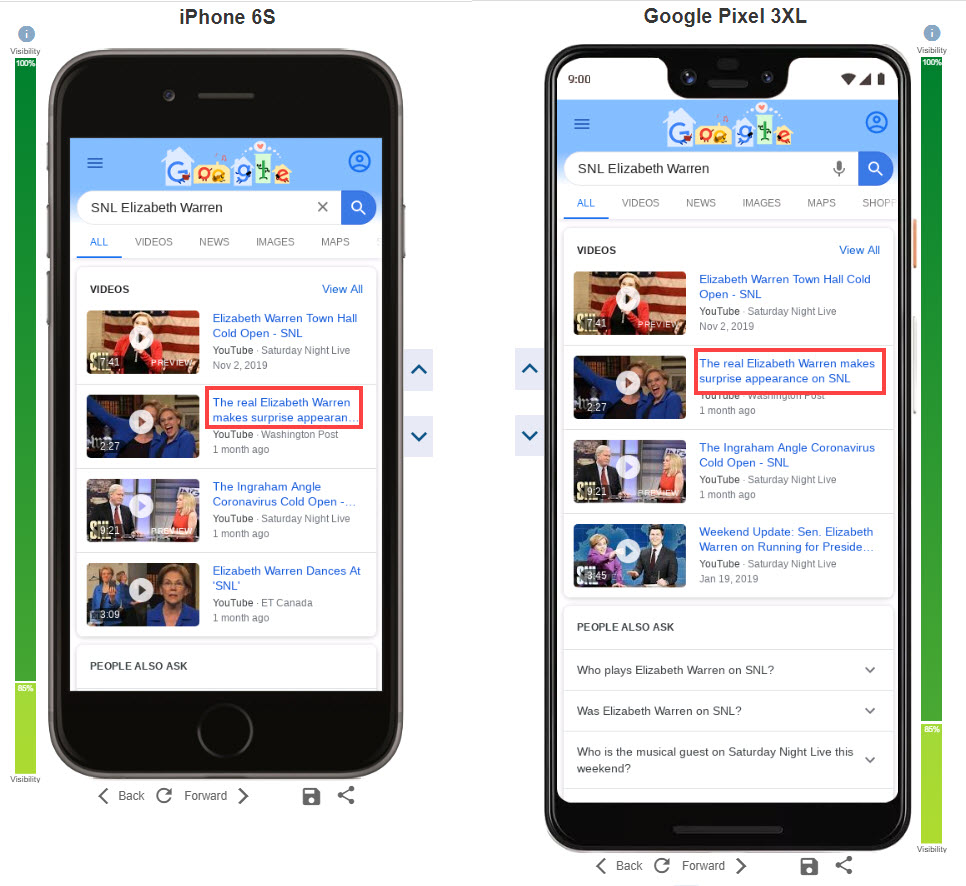 5. Next Step – Check out the results! Our phones will actually play video, so feel free to click on those play buttons, or click through to YouTube. Unfortunately, there is no sound with the video. (We had too many punk-rock super-fans using our tools to listen to Iron Maiden and we couldn't take it anymore – Sorry!)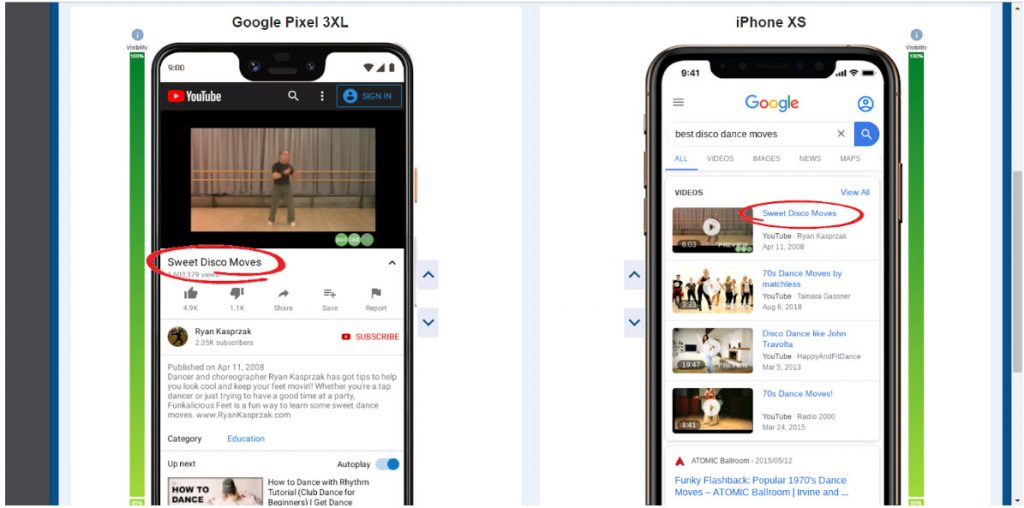 There is a lot that can happen in a video results page! You can see in the image below, that Google shows a video pack with 4 videos at the top of the result – all from YouTube. If you scroll down lower, you will notice that Google is showing a People Also Searched For result, with a carousel of '70's Dance Movies.
Google is pretty aggressive with showing movies in any query they can. You can scroll sideways on this movie carousel by clicking and dragging sideways. When you click the link, it will take you to a Knowledge Graph result for the move that you have clicked on, and there will generally be videos include in that.
Feel free to dig into the details: -You can expand the People Also Ask buttons on the left or click through to view the Knowledge Graph result for the movie, including all the tabs, like the 'Clips & Videos' tab or the 'Watch Movie' tab, as shown on the right. This is especially valuable if you are sending a video feed to Google in YouTube or Google Play, or if you are trying to rank above a Knowledge Graph result. Remember, Google loves to rank the Knowledge Graph because they monetize it by linking to the monetized videos, clips and related 'movies and shows' content.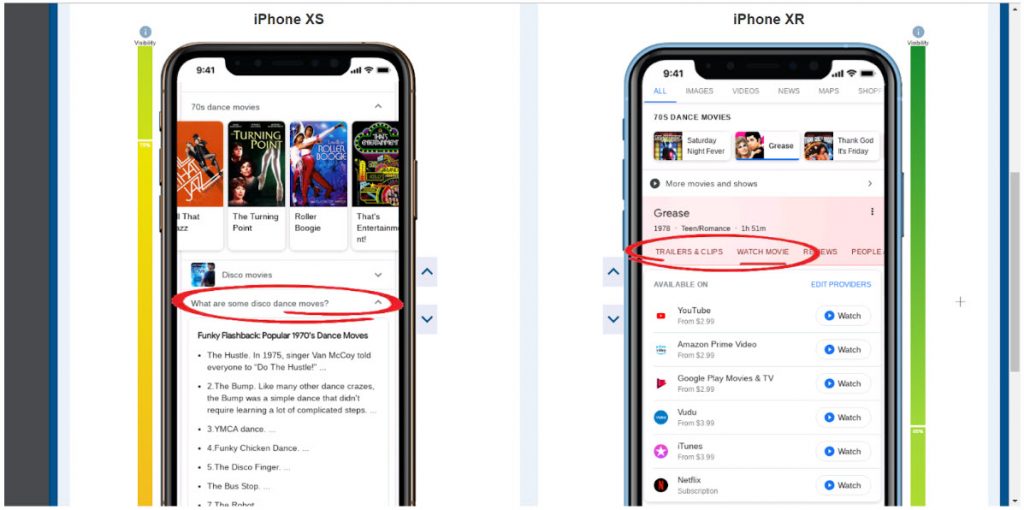 6. Finally, you can click the 'save' icon below each of the phones – Each test, aka each phone, must be saved separately, so it is fine if you only want to save one of the results, to test on a regular basis. When you click the 'save' icon, a modal will pop up with options. You have the option to re-run this test daily, weekly, or monthly, and you can specify things like the day and time that you want it to run.  You also have the option to run the test, not just in the address or location that you specified, but in a radius around the area, to see if the result changes. If you choose non-local, you will only test in the one location, but if you choose 'local' the tool will test with 12 different addresses in a 20-mile radius of your main address. When you are done here, click 'Next'.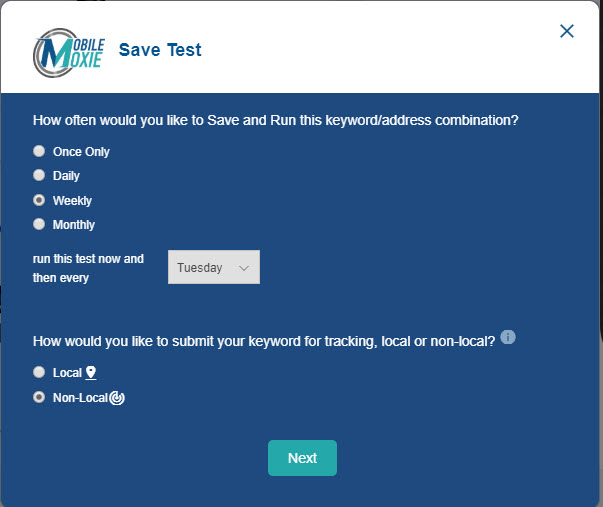 7. Finally, if you have other addresses saved to your account, you will be given the option to run the same test in multiple locations outside of the 20-mile radius. This is great if you want to compare how this test looks in different cities, states, or countries that you serve, or if you want to to the same test at multiple store locations. (If you want to run this test in multiple locations that are not already set up in the tool,  go to the 'Dashboard' CSV uploader, then come back to this step if you need to.) Click 'Submit' and then you are done. The test will be added to your dashboard, and you can see the progression of your tests there.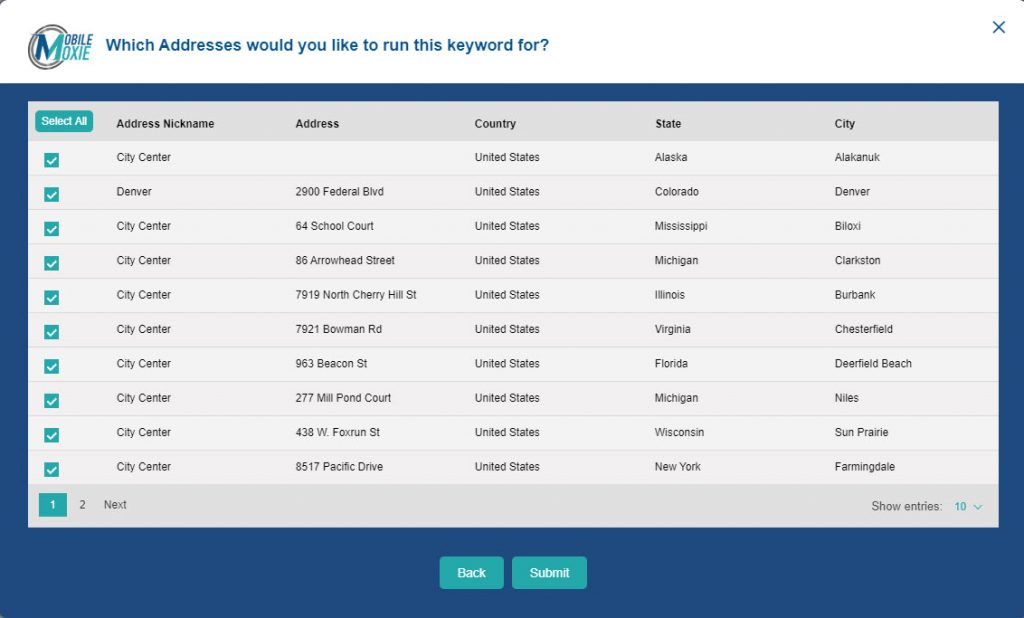 We hope you found this tutorial useful! Please remember that this How To documentation focused on the paid version of the MobileMoxie tools. We do have a free mobile SERP checker, but it is limited. If you need unlimited SERP tests with our tools, you should sign up for a 7-day free trial.