How To Set Up a Regular Landing Page Test in the Page-oscope
April 8, 2020
Landing pages are critical for great PPC campaigns, ad campaigns, and even SEO. The problem is that many companies still test their landing pages on desktop computers or laptops, but forget to test on mobile phones, even when the people who built them say that they are built in a responsive design, adaptive design, or otherwise built with some kind of Mobile-First Design principles in place. Pages can look differently on different phones, especially when screen sizes vary, so to do a great job at optimizing mobile landing pages, companies really should be testing mobile UX and CRO on a variety of different phone sizes and types.
If you are using advertising or social media budget to send traffic to the landing pages, it is even more important to make sure that you know how that landing page looks for the duration of the campaign; to ensure that it is up and working, and rendering properly for the traffic that you are sending. This can be easy on a small website, but harder when sites get bigger, and site navigation, page templates, or other elements may be changed by external controls without much warning. This tutorial will walk you through how you can do that, and set up regular testing of your mobile landing pages to make sure that results in your campaigns are validated with clear visual records of any changes to the mobile landing pages.
1. First, start by logging into the MobileMoxie tools, and clicking on the Page-oscope tab at the top. Next, click the Dashboard button below that. The Dashboard is where you set up regular reports. If you are in a new account, it will be blank and look something like the image below.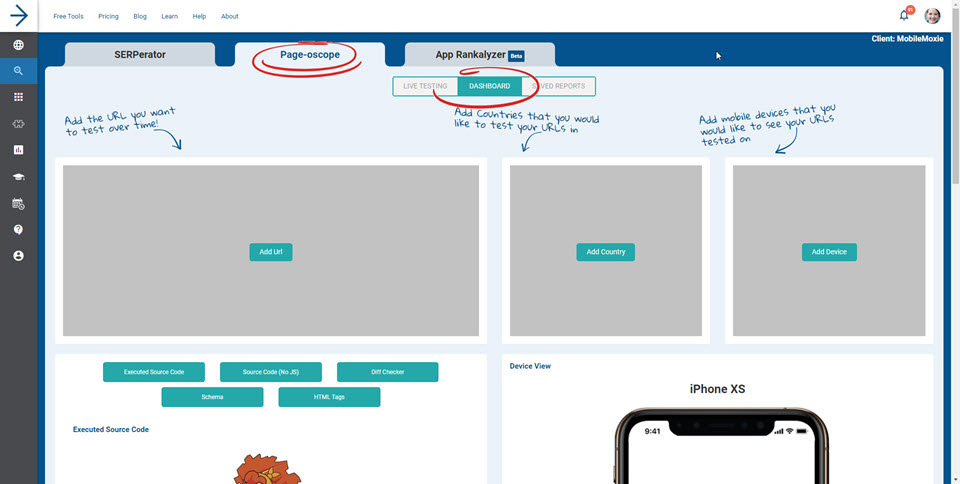 2. Start setting up your landing page test by clicking the 'Add URL' button, on the left. When you click the button, it will bring up the 'Add URL' modal, which will give you the option of adding one URL to test or multiple URLs if there is more than one page that you want to test. If you are testing more than one URL, you can add them by uploading a CSV, but for this tutorial, we are just going to add one landing page to test. Type the URL or copy and paste it into the modal; be sure to leave tracking code off of the URL that you add to the Page-oscope, or set up different tracking code so that the Page-oscope traffic will not be counted with the rest of the campaign. When you are done, click 'Add' and the modal will disappear, and the URL will appear in the URL box on the left.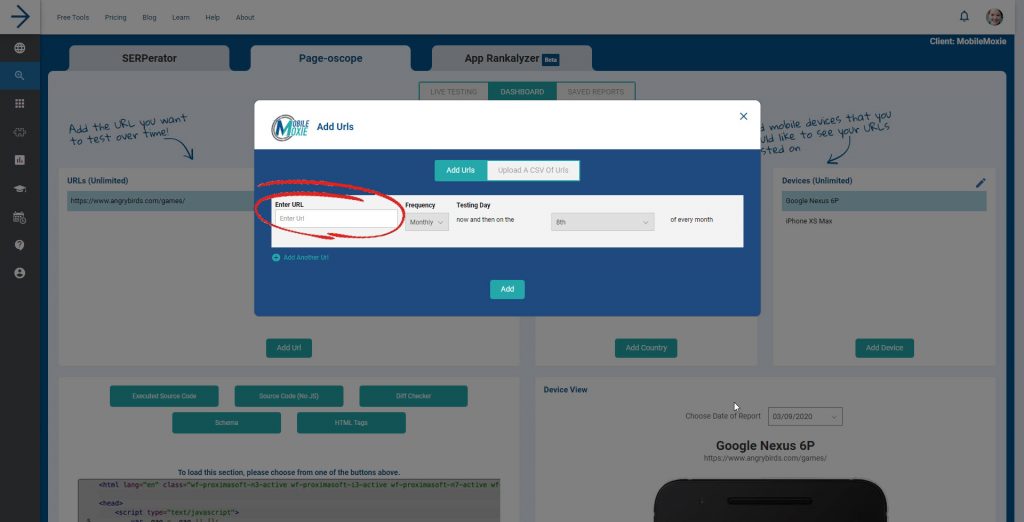 3. The next thing you need to do is add the 'Country.' This is important if you are changing landing pages based on the country – especially relevant if eCommerce pages should be adapting the currency on the site to meet the needs of the visitor, but equally vital for highly regulate industries. Again, you can add countries one at a time, or upload them in a CSV. If testing country versions isn't something that matters for your landing page, just leave it with what is auto-populated, and move on to the next step.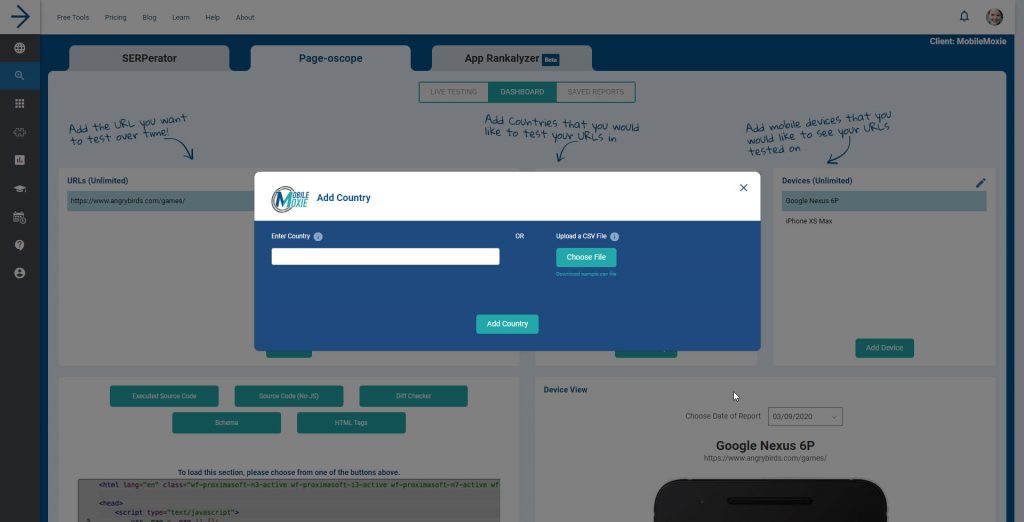 4. Now, pick at least one phone that you want to test this landing page on. Once you have added everything, your dashboard will look something like the image below. Double-check that one thing from each of the 3 boxes across the top is selected; you can know what is selected because it is highlighted in teal. This sets up the parameters for the report that will show in the results lower on the page. In the image below, you can see that we have chosen to test an Angry Birds landing page, in the United States on an iPhone XS Max. Simply hit submit and the test will start to run. In some cases, when you add lots of test parameters,  it can take up to 24 hours for the tests to finish.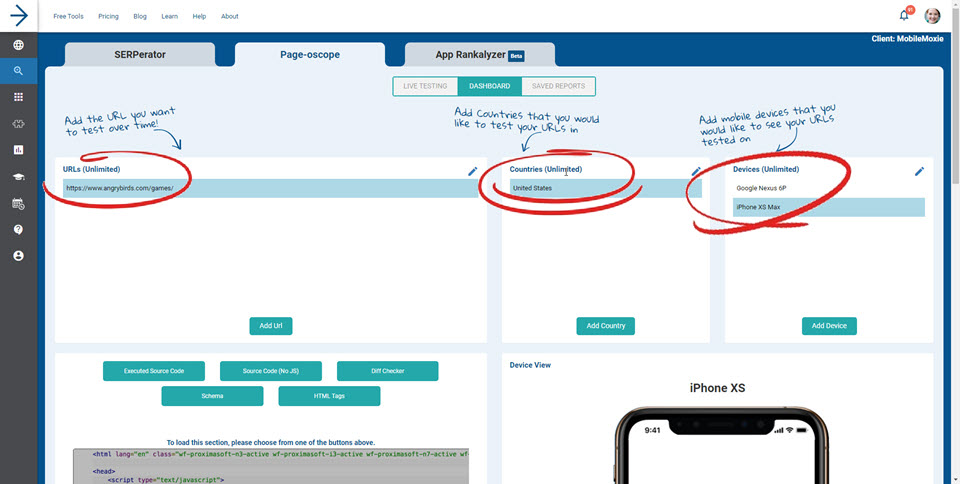 5. If you want to edit anything about the report, just click at the top on Saved Tests, and you will see the list of all the tests that you have saved to your account. Even if your reports are still running, you can edit the test. In the image below, you can see that the iPhone XS Max test as well as a test on a Google Nexus 6P have been added. All of the reports on your dashboard will be set to auto-run daily, weekly or monthly – but monthly is the default.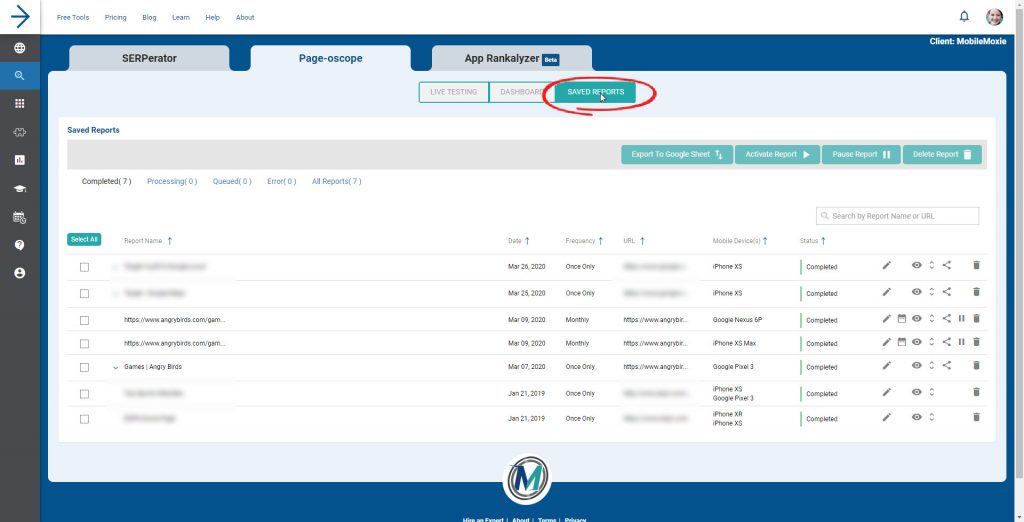 6. If you ever need to manage the reports that you have set up, do it in the Saved Reports Tab. The icons below are represent what you can do with any saved report. Descriptions for each icon are included below:

The pencil symbol lets you edit the title of the report
The calendar symbol lets you see historical reports (once they exist)
The eyeball symbol lets you see the most recent run of the test
The copy symbol lets you duplicate and modify a report, if you want to edit it, for instance, to do the same report on a different phone, or in a different country
The scroll icon will show you the full-length screenshot for any test
The share triangle lets you share the report in email, or in Twitter or Facebook, or just copy a link to your clipboard
There is also a pause button to pause the auto-run of the report
Finally, there is a trash can icon if you want to delete a test – remember, when you delete a report, it will be gone forever and can not be recovered
7. If you do nothing, the report that you have created will now run and archive a static image of the full mobile result, (rather than an interactive SERP that you can click on) on the schedule that you selected – daily, weekly, or monthly. This is a great way to monitor ad campaign landing pages, social landing pages, or just archive design changes, and use these screenshots to review how design changes impact conversion rates, traffic rates, or load time metrics for the page. It is also useful to note that you can export these test results into Google Sheets from this tab, making it easy to integrate time-stamped links to these archived images with any other data.
This tutorial focused on the paid-user view of the MobileMoxie Page-oscope. If you are looking for a free version of this tool, you can try our free mobile website test; if you need to do more than a couple of tests, we recommend signing up for our free 7-day trial, to get unlimited mobile website tests.