The ASO Impact of #DeleteUber
February 2, 2017
After accusations that Uber was attempting to profit from airport protests over the weekend, many users deleted the app. Deleting Uber also quickly became a trending hashtag on Twitter (#DeleteUber), where users shared screenshots of them removing both their Uber user accounts and deleting the app itself.
Many of those who deleted Uber subsequently downloaded Uber's competitor, Lyft, who had declared its support the ACLU with a sizable donation. The Wall Street Journal reports Lyft received nearly 100,000 new downloads over the weekend. This is a 78% increase from the weekend before.
So how did this impact Uber and Lyft's rankings in the iOS App Store and Google Play Store?
iOS App Store Category Rankings

Uber experienced a noticeable drop in category rankings, while Lyft also experienced a boost. However, it's hard to isolate exactly which ranking factor is most responsible for this shift. Without even considering Uber's uninstalls, Lyft's fast boost of new installs improved their download velocity, which could have lead them to out-rank Uber.
In addition to installs and uninstalls, the Uber app also received a disproportionate surge of negative app reviews in the App Store, as shown in the graphs below. Many of Uber's one-star reviews cited the #DeleteUber movement or a similar political reason. Since app reviews contribute to rankings, this surge also likely contributed to Uber's ranking decline.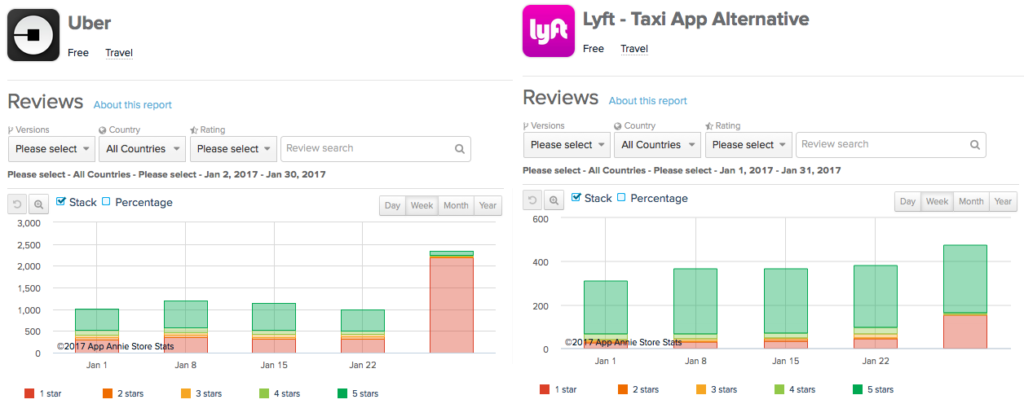 You may have noticed that Lyft also experienced an uptick in negative reviews, though to a lesser degree than Uber. Many of the new Lyft one-star reviews cited a disagreement with Lyft's policy stance. However, they also received positive reviews for the same reason.
Google Play Store Category Rankings

There was less of a noticeable impact in the Google Play Store category rankings. While the Lyft app experienced some rankings growth, the Uber app didn't seem to fall very much. This may indicate that more iOS users than Android users were deleting Uber and installing Lyft, or it may mean that the Google Play Store is less sensitive to those signals.
However, what I think really made the difference in the Google Play Store trends was ratings and reviews. The Android Uber app did not receive the same surge of negative reviews that the iOS Uber app received. In fact, in the Google Play Store, Lyft seemed to receive a larger distribution of negative reviews during the last week, as shown in the graph below.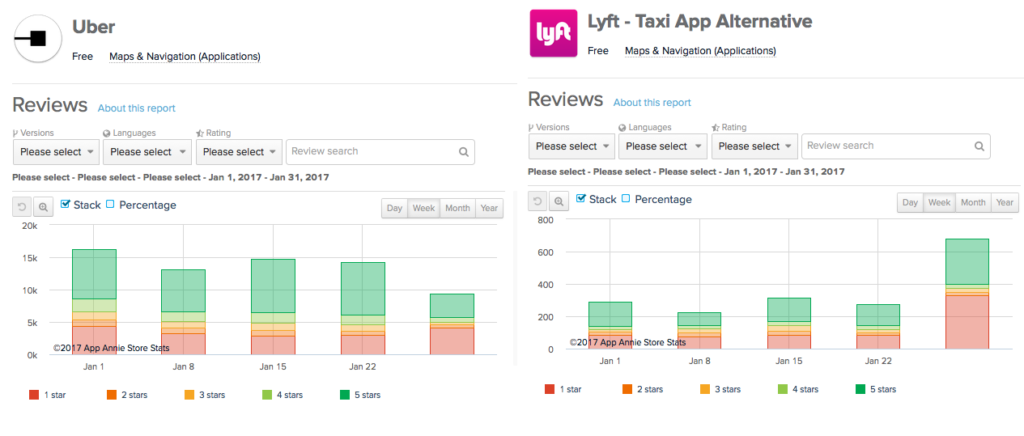 Conclusions
The combination of uninstalls for Uber, new installs for Lyft, and a surge of negative reviews for the iOS Uber app created the perfect storm for an ASO rankings shift. It is unclear if Lyft will be able to hold on to their new and improved category rankings or if Uber will be able to recover.
The big lesson here is that a trending hashtag should not be underestimated. In this case, #DeleteUber had real-world impact on not only Uber's install base but also its organic App Store rankings.