Try the MobileMoxie SERPerator without logging in...
You can use it for free 3 times per day.
MobileMoxie SERPerator: Google Mobile Rank Checker - Check Google Keyword Rankings for SEO & Test Local SEO
CHECK MOBILE RANKINGS BY ADDRESS RATHER THAN CITY, STATE OR ZIP/POST CODE
See mobile search results at whatever location you want, specific down to an address, or by city, state or post code/zip code. Most SEO tools show only desktop rankings, and the best they can do is a post code. We give you more geo-specificity, so that you can see mobile search results as if you were standing in a specific address.
Paid members can also see 2 ten-mile radiuses from that central location, to determine how much the Google SERP changes as people move around in the area. Paid members also get the ability to upload a CSV of addresses, plus codes or latitude and longitude coordinates, and test SERPs at those locations on a daily, weekly or monthly basis, and archive the results for future reference.
The SERPerator lets you go back in time, if you ever need to explain anomalies in traffic. Maybe a Knowledge Graph, Featured Snippet or other SERP feature was added above you - this would change your traffic dramatically, even though you might have maintained your ranking position. This is the only SEO tool that lets you go back in time to see what real SERPs looked like, so you can answer questions about historical mobile search rankings.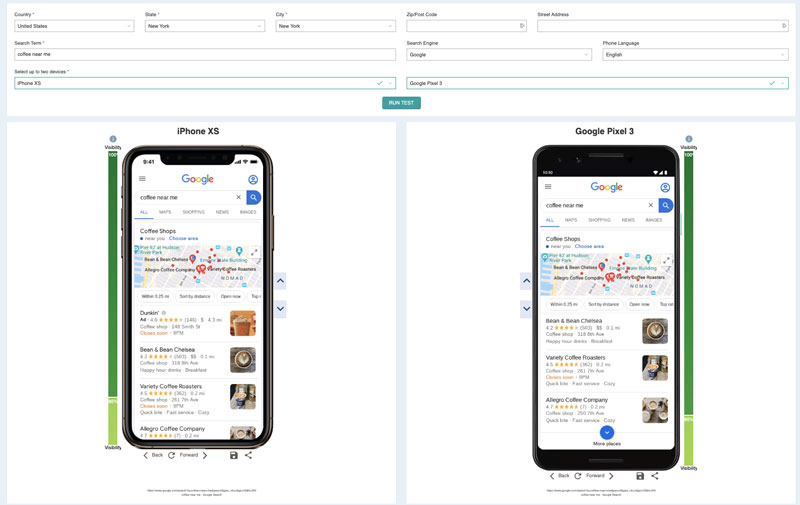 MOBILE SERP TEST BY SPECIFIC MOBILE PHONES - MORE THAN 35 ANDROID & IOS DEVICES
Did you know that Google shows different search results to IOS and Android devices? This is especially true for app oriented queries, but the differences are sometimes even broader than that. Results can also change in relation to the size of the phone that is searching - Bigger phones get different results than smaller ones. Use the MobileMoxie SERPerator to easily see how the Google search results change on different mobile devices. You can emulate and compare search results on two phones at a time, and we have more than 35 phones to choose from, and we are always updating our devices lists in both iOS and Android, so if you have it, we probably do too!
TEST SERP VARIATIONS IN FAR AWAY LOCATIONS
Wondering how your brand ranks in a different country, on the other side of the world? We've got you covered! Our free Mobile SERP checker lets you test search results from anywhere in the world, and paid subscribers can even archive test results, to get monthly, weekly or daily mobile screen captures of real SERPs from anywhere in the world. This is great for monitoring top keywords in all the locations that your international business serves, or just for monitoring local SEO performance for brick and mortar stores across the country!
Ready to get started?
You can use our SERPerator and our Page-oscope for 7 days free.
Register now and get immediate access!