Getting Started in the SERP Datalyzer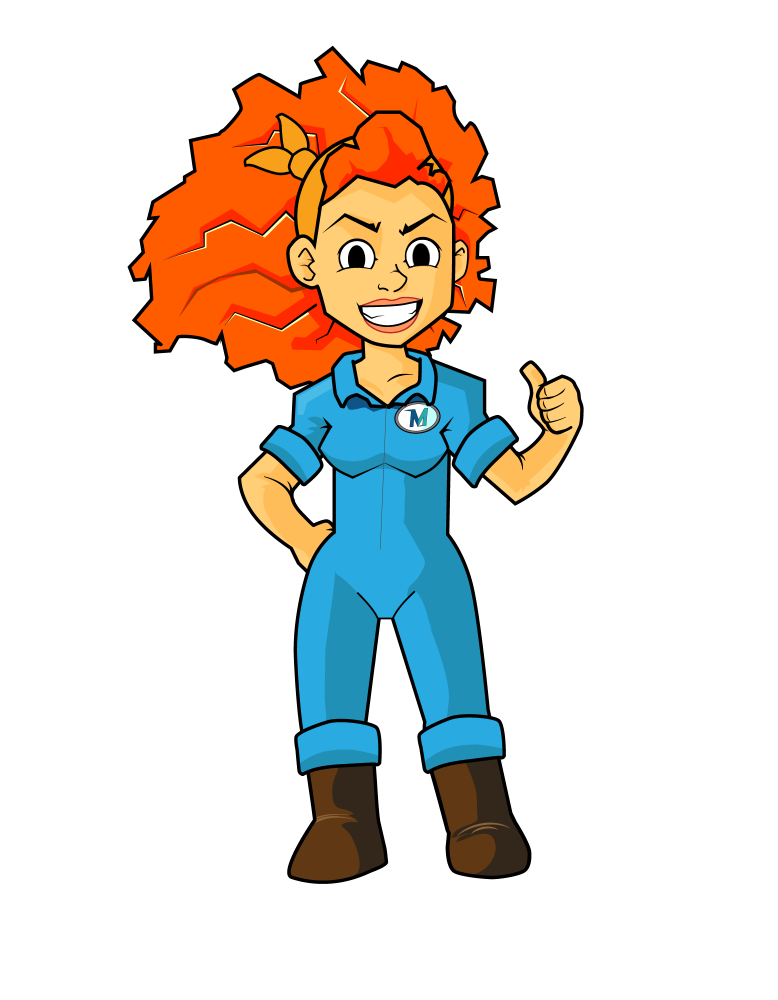 New to MobileMoxie? We're here to help.
The SERP Datalyzer Automatic Google SERP Tracking Tool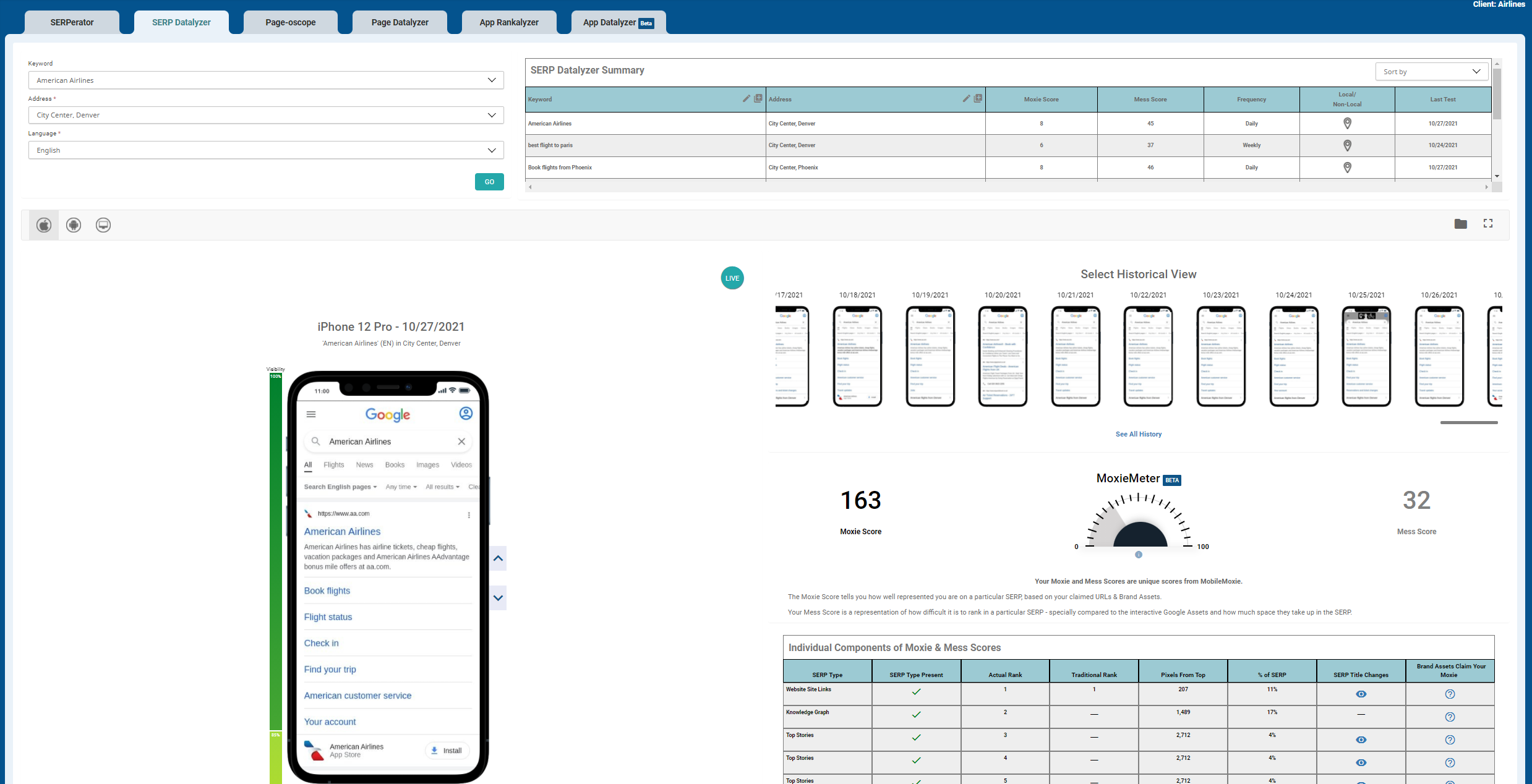 Functions of the SERP Datalyzer
The MobileMoxie SERP Datalyzer is an automatic tracking tool for Google search results. You can use it to monitor changes to key parts of the search results that other tools completely miss like Google Knowledge Graphs, People Also Ask, Map Packs, Google Business Profiles, and so much more. Add your brand assets (URLs to pages relevant to you or your brand) as well as any search queries you want to track. You'll be able to see changes over time to your tracked SERP's across 50+ mobile & desktop devices and from any address in the world!
Your brand assets include any links that are relevant to your brand (or maybe your competitors.) Make sure to add these so we know what links are showing up in Google search results that are relevant to you. For example, if you hold a position in the Google SERP, the SERP Datalyzer will be able to track this and show you graphed changes for this position over time.


Click the + icon in the SERP Datalyzer summary table to add a new search query.

Here you'll be able to enter the keywords you want to track, or alternatively upload a CSV of keywords. Additionally, you'll also specify the language you want to track in. Note: this might not be the language you input the keyword in, if for example, you wanted to track English keywords searched from a phone with a default phone language set to Spanish. You'll also be able to add your testing frequency (daily, weekly or monthly) depending on your plan. This is how often the SERP Datalyzer will test the Google search results for this keyword. Finally, you can choose to make this a local test. A local test will test from 4 additional locations around the address of your central pin.
Add Your Testing Locations

Click on the + icon on the top of the address column to add a new address or testing location to the SERP Datalyzer.

Here you'll be able to add or import all of the addresses you'd like to track the search results from. You'll be asked to select a country, state, and city. Additionally, you can specify a specific zip code and street address. This is useful for local tests so that you can automatically track Google Search Results around a specific address such as a physical business location or home. Finally, you can choose to add a nickname for the address that will appear in your results summary.

Once you've added all the keywords and addresses you'd like to track and refresh the page, your added keywords and locations will populate in this table. Note: you won't begin to see any relevant data populate just yet because your first test still needs to run. Once it has run, you'll begin seeing a dashboard of unique SEO insights for your tracked results. 
Once you've added all the keywords you'd like to track and their associated settings, you'll be able to select them from the toggles below and see your latest automatic test. Hit the go button to see how the REAL search result appeared over time from your selected address.

Seeing Your Tracked Keywords and Their Changes
After your first test is run, you'll also begin to see previous dates under the historical view section. The main device shows your selected date when an automatic test was run. You can click on the smaller devices under 'historical view' to see the main device populate this screenshot. Feel free to scroll on the devices and see the SERP exactly as it appeared on that date!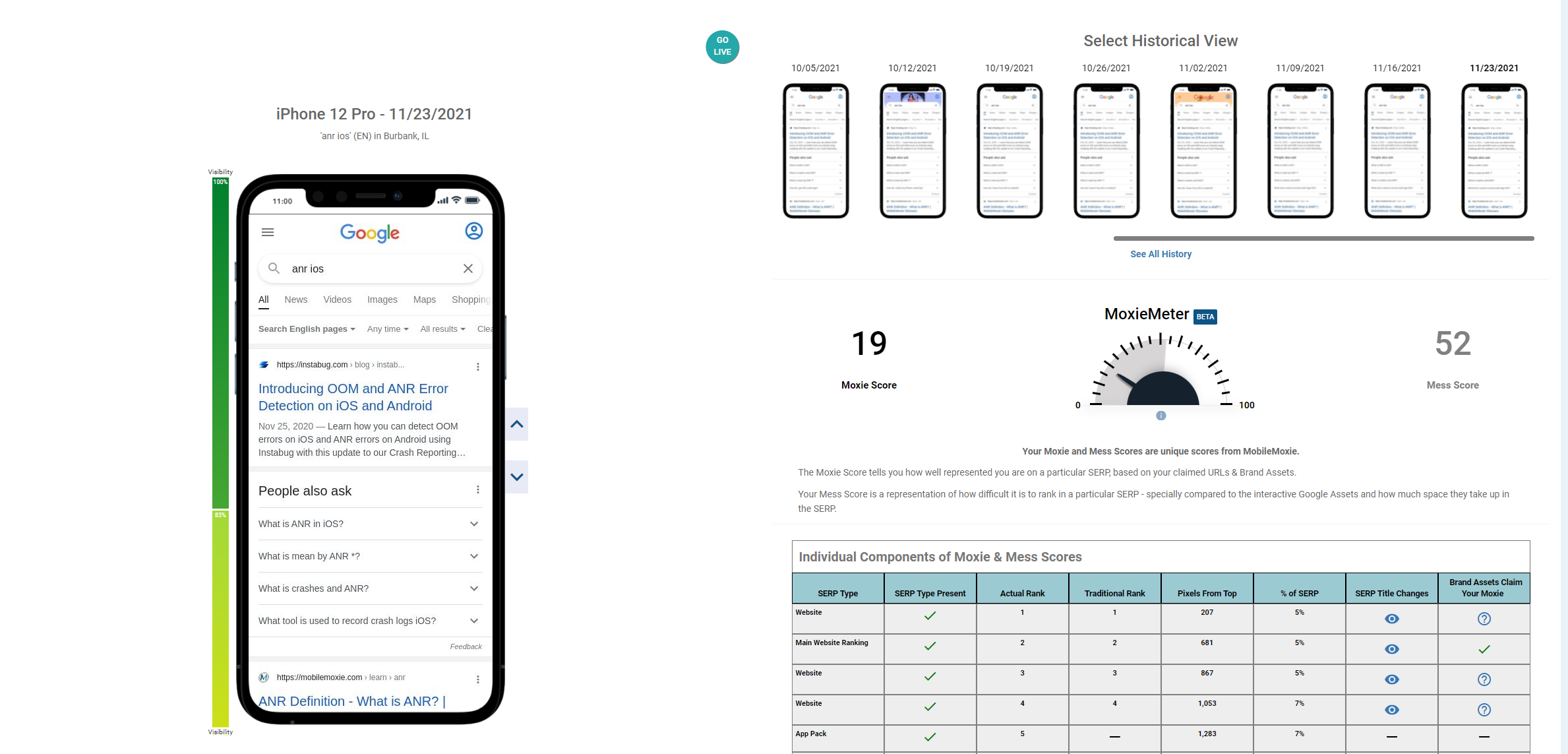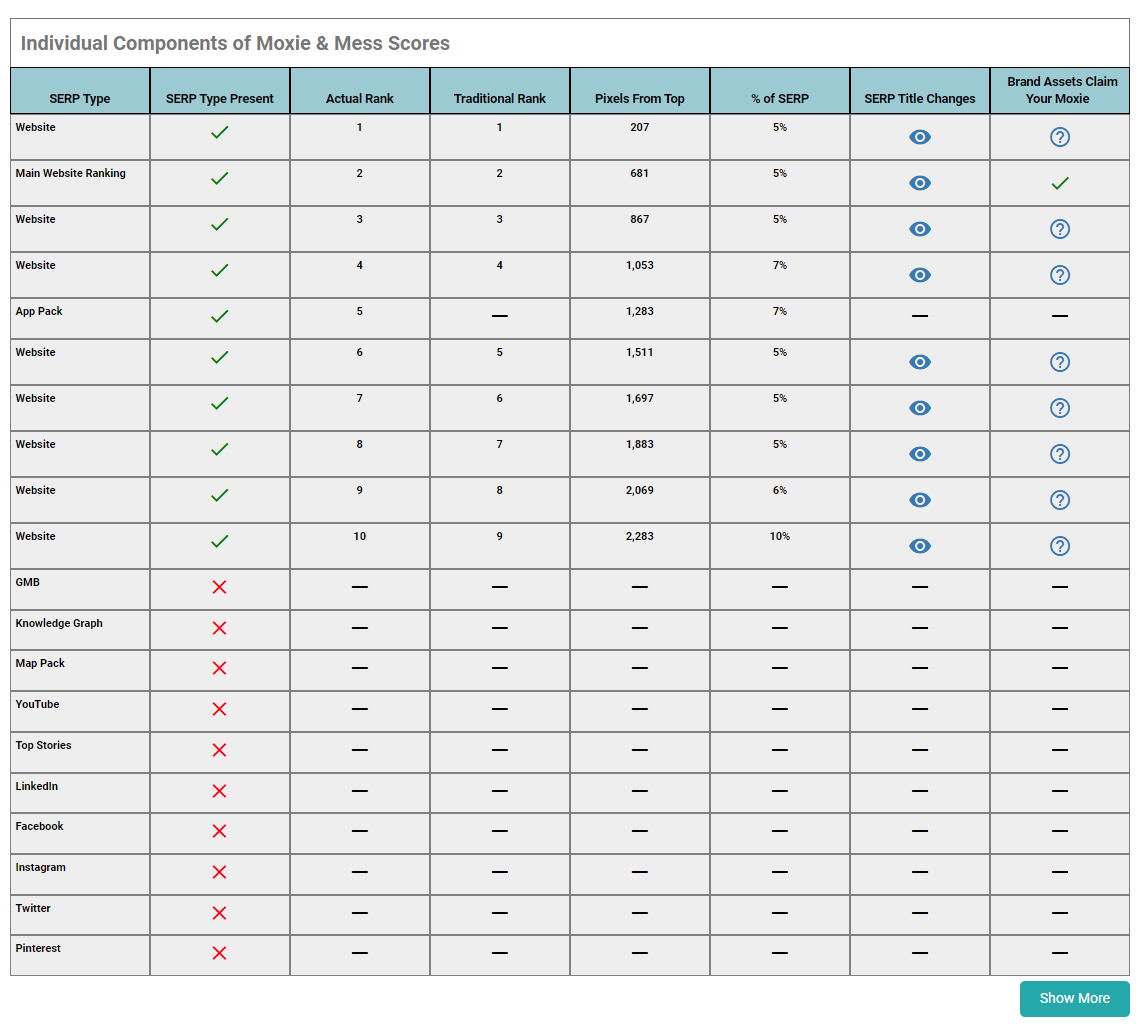 The SERP Datalyzer shows you a parsed version of the SERP that will dynamically change depending on the keyword, device, and date you're currently looking at – so you can see the SERP visually and also numerically. The parsed SERP gives you super unique SEO metrics like your traditional (blue link) rank, your Actual Rank, as well as Pixels from the Top and Total Percent of SERP Owned. We've also added a column called 'SERP Title Changes', here you can see if any of the results had recent Title Tag changes. It's super helpful to see if Google has been secretly changing your Title Tags. On the far right, you'll be able to claim your 'Moxie' or claim a URL as relevant to your brand. This will boost your overall Moxie Score, a representation of how well you're performing on the SERP! More on this below.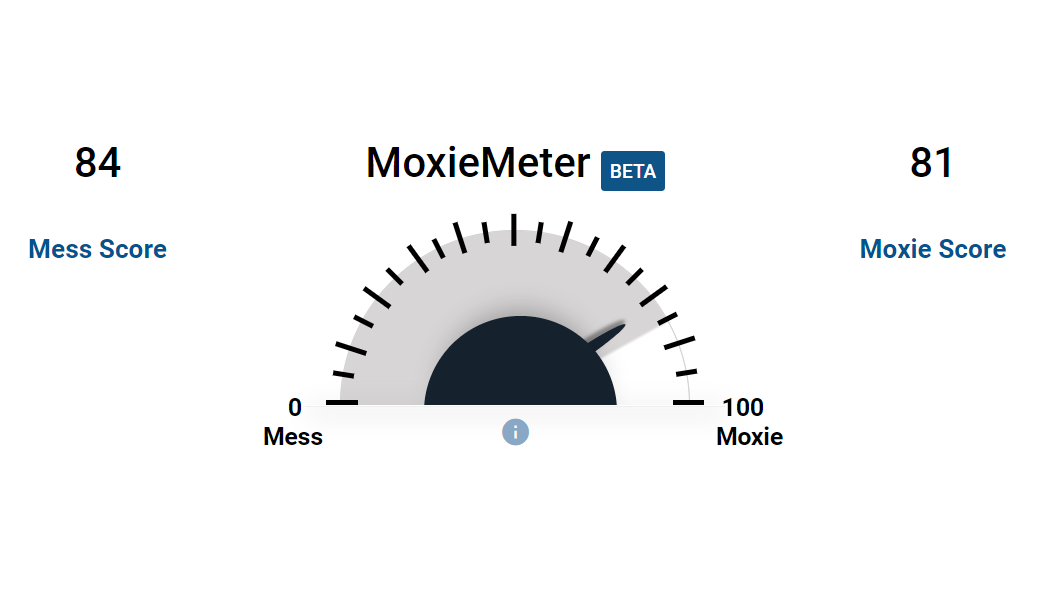 The MoxieMeter is a representation of two different scores, your Mess Score, and your Moxie Score. Mess is a difficulty measure for ranking on the SERP while Moxie is how many of your brand assets we've determined to rank on key parts of the SERP such as Google Business Profiles, Knowledge Graph Results, or Map Packs. It gives you a numeric representation of the total ownership of the SERP. This is a much more organic evaluation than looking at traditional blue link ownership which many SEO's still attribute primary importance toward.
The SERP Performance Graph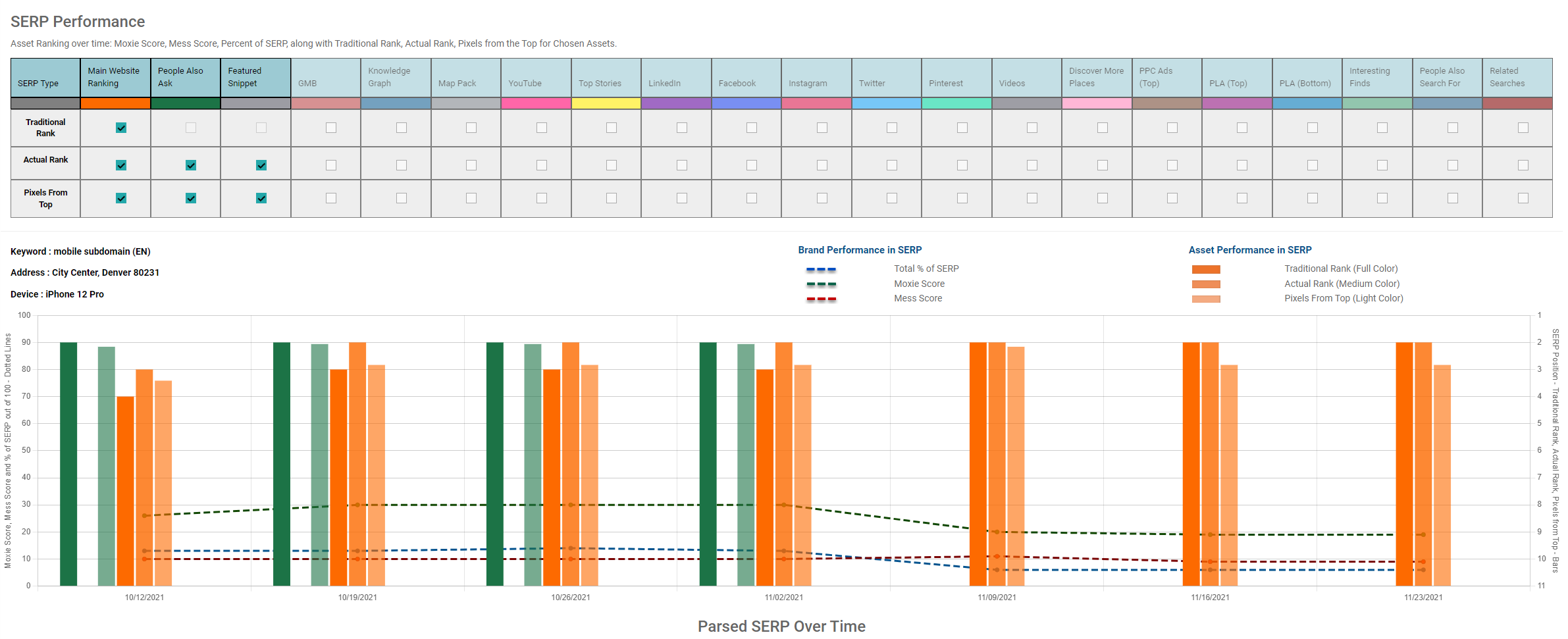 The SERP Performance Graph is an automatically updating graph of the parsed search results for your tracked keywords. It will update overtime and you'll be able to toggle on/off specific elements for various ranking types such as your main website, or specific results like People Also Ask and Featured Snippets. Additionally, it will also give you a timeseries representation of your Moxie Score, Mess Score, Traditional Rank, Actual Rank, and Pixels from the Top.
The SERP Datalyzer has SO many inbuilt functions, the best way to get started is to dive in and start tracking some keywords. Use this guide to get started and play around inside the tool!